The 2020 Pandemic has changed a lot of things in India, for better or for worse. We started working from home, consulting doctors online, opting to get groceries delivered home, meeting as few people as possible and even pursuing education online.
When it came to education, it was tricky. We saw new trends in online education/learning. Traditional teaching took a major hit and our only hope was to look for technological solutions, and boy are we glad. The whole education system quickly changed to using online platforms to take classes and submit homework.
This has become so common that it already feels weird to think about meeting classmates. So the question is, what now? Where do we see ourselves in the immediate future of online education? What is the complete future of e-learning?
The Present
A recent "India Lockdown Learning" report gives out some interesting online learning stats – 79% of students use smartphones to study online, 17% use laptops and computers and the rest 4% attend it through mediums like tablets. The report was from a survey conducted by Vidyasaarathi, an education financing portal by NSDL (National Securities Depository Limited).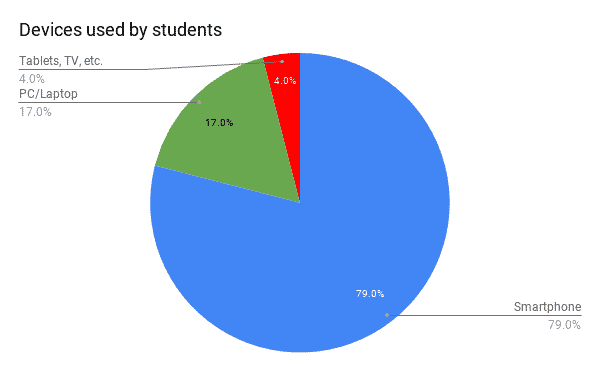 The nationwide survey collected data from over 10,000 students across 400 cities to understand the new trends in education. It helps us to take note of the impact of online education on students, which is becoming the new normal.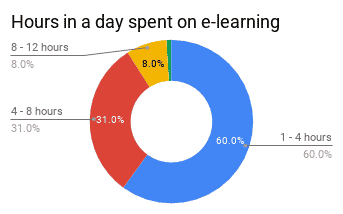 60% of the students spend around 1-4 hours on e-Learning, 31% spend 4-8 hours and 8% spend 8-12 hours studying online. This shows students' desire to learn and the commitment of teachers towards online education.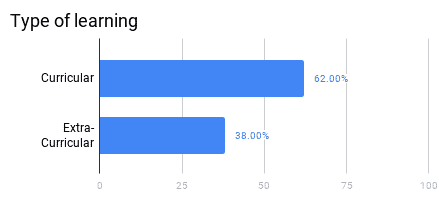 The total number of students who are into online classes, 62% of them are using it for curricular and 38% for extra-curricular learning.
These statistics about online learning clearly indicate the benefits of online classes. Students mentioned that the best part of e-learning is the accessibility and usability of course content at any time and any place.
The e-learning culture in India is being taken into serious consideration right now and the usage of technology in teaching has increased multifold via platforms like Zoom and Google Classroom.
The Future
As per Online Education in India: 2021, an online learning statistical report released by KPMG India and Google, there is an expected growth of online education in India from USD247 million in 2016 to USD1.96 billion in 2021. There will be an expected increase in paid online education users from 1.57million in 2016 to 9.5million in 2021.
Increased adoption of cloud-based solutions for education platforms further encourages the students. The increasing presence of service and content providers in the market is also bringing huge amounts of educational content online. Growth in the field of artificial intelligence and Internet of Things (IoT) will continue to strengthen online education platforms.
With such prevalence in technology and AI-driven future, it makes sense for the younger generation to be familiar with AI and programming in general. It paves way for many opportunities when they reach adulthood.
STEMpedia's Role in E-learning
Technology has always been proved to be helpful – earlier using audiovisual classrooms, then smart classes, and now the classes over devices. The usage of AI and ML in daily activities has also been on the rise and it is influencing our lives more than ever today. We believe, as we always had, that artificial intelligence and machine learning is going to be integral in every child's development and life and why we encourage kids to start learning AI, ML and coding from an early age.
Our online courses are simple, easy to understand and also provide live sessions with expert educators which make sessions engaging and more effective for kids – all this while staying comfortably at your home.
They teach kids the latest technologies such as robotics, programming, artificial intelligence and machine learning, and help them develop crucial 21st-century skills such as creativity and innovativeness, collaboration and teamwork, problem-solving, logical reasoning, coding and computational thinking and evidence-based thinking.
Our STEM kits – especially our beginner's DIY starter kit, learning material, projects, programming tools have been designed to empower young minds for an AI-driven future.
You can book a free demo here. The courses are also mobile-friendly. 🙂
In a nutshell
So far, we learnt about the rapid trend of adopting online learning and how it still will be relevant in the future. With skill learning and courses being available in abundance, it is becoming easier to upskill and learn something new every day. One can even learn skills like cooking, musical instruments, ethical hacking, etc. within a month.
This proves to show the importance and credibility of online education and extra-curricular learning and upskilling, especially at home. STEMpedia has always provided easy access to upskilling with our extensive courses on AI, ML, Programming and Robotics to make young kids stay relevant in the 21st century. We can promise you that you will have decision fatigue after looking at what we have to offer. 🙂
Let us know in the comments below about what you think of the trends in online learning.