Ever since Arduino came into the market, the world of all the current and aspiring DIYers/tinkerers completely changed for the good. But for now, that's about it. The compulsion to buy separate Arduino shields for every new functionality you want to add to your project still makes project-making a costly affair.
Not any more people! Dabble, a mobile application ingeniously developed by STEMpedia is here to save the day! It replaces all the physical Arduino shields and exploits the inbuilt features and sensors of your Smartphone thus transforming into a virtual treasury of infinite shields. It doesn't require any special prototyping board, does the work of multiple apps like 1Sheeld, Bluetooth Controller, and Arduino Rd, and is available completely free of cost!
What is Dabble?
Dabble is a project-making mobile application perfect for everybody's DIYing needs, be it a student, a teacher, or a hobbyist. It transforms your Smartphone into a virtual I/O device and lets you control and communicate with hardware via Bluetooth, access sensors like the accelerometer, GPS, camera, and proximity and other features of your Smartphone.
Inside Dabble:
Dabble is packed with nearly a dozen features, known as modules, to tap into your Smartphone's hidden capabilities, opening doors to more versatile and exciting projects.

This module allows you to control the brightness of devices such as LEDs. You can enter the number of the pin (analog or digital) to which your device is connected and vary the brightness at that pin.
This module allows you to both send and receive data from a device with this module. You can send both textual and voice commands to the device e.g. turning it ON or OFF. The messages are displayed with a timestamp.
This module provides the controller layout in three different modes:
Digital Mode: Standard mode with 10 buttons namely Up, Down, Right, Left, Triangle, Circle, Cross, Square, Select, and Start.
Joystick Mode: The Up, Down, Right, and Left buttons are replaced by the Joystick which sends data in polar coordinates. The radius varies from 0-7 and the angle varies from 0°- 360° in steps of 15°.
Accelerometer Mode: This mode is similar to the joystick mode. Instead of sliding the button on the screen, you must tilt your Smartphone to make it move.
This module allows you to remotely monitor the live status of devices and debug them by displaying the values of all the pins – both digital (0 or 1) and analog (0-1023).
This module lets you control actuators such as the DC motor and servo motor. In the case of a DC motor, you can vary its speed using the slider and change the direction of rotation by selecting the respective buttons. In the case of a servo motor, you can vary the servo angle by sliding the yellow bar in the clockwise direction.
This module allows you to control the input provided to your prototyping boards/robots via buttons, knobs, and switches. You can control analog input using the knobs. Similarly, you can also control digital input using the push buttons (momentary/tactile switches) and the slide switches (ON-OFF-ON).
Using this module, you can access the different sensors of your Smartphone such as the accelerometer, gyroscope, proximity sensor, magnetometer, light meter, sound meter, GPS, temperature sensor, and barometer to make versatile projects and conduct experiments.
With the help of this module, you can use the camera of your Smartphone for taking photos, record videos, detecting colors, and face recognition from live video stream, etc.
With this module, you can make projects based on the Internet of Things. This module has a data logger that stores your data in the form of a CSV file.
This module helps you visualize and analyze the input and output signals given to the device. As of now, this module exists as a trial version. A more stable version is under development.
Upcoming Features
Apart from the features mentioned above, work is underway for adding more functionalities to the app, some of which as mentioned below:
Work for making all modules of Dabble compatible with ESP32 is in progress. For now, it compatible with the Gamepad module.
Our developers are also working on making the Music module live soon. With its help, you will be able to receive commands from the device and play tones, songs, or other recorded audio files on your Smartphone.
Additional IoT Module Functionalities
More functionalities, in addition to the data logger, such as receiving data from and publishing it to the cloud or API will be added to the IoT module in the coming version.
For now, Dabble supports Android 5.0 and up. The iOS version is currently under development and will be available soon.
Why Dabble?
Without a doubt, Dabble is the perfect choice for anyone wanting to add versatility to their projects without having to spend extra bucks on individual Arduino shields. But if you still don't feel convinced enough, here's why you absolutely need to get Dabble today:
Board Compatibility: Supports your favourite prototyping boards such as evive, Arduino – Uno, Mega, Nano – and ESP32 (coming soon).
Bluetooth Compatibility: Connects with several Bluetooth modules such as HC-05, HC-06, and HM-10.
Software Compatibility: Easily programmable with both Scratch and Arduino thus making it suitable for everyone.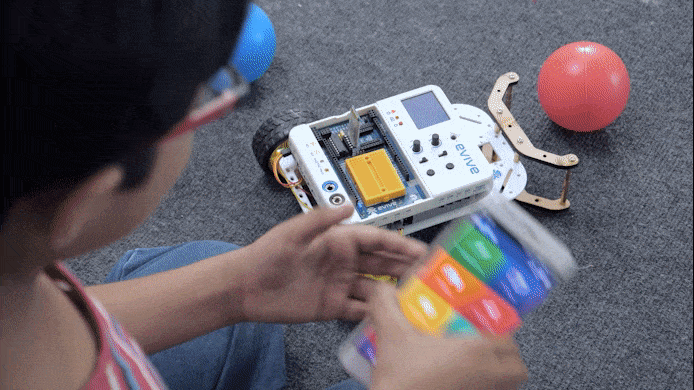 Download Dabble from Google Play NOW to try it out!
In A Nutshell
Gone are the days where you needed to buy an Arduino shield every time you wanted to add new functionality to your prototyping board. All you need now is a Bluetooth module, a Smartphone, and Dabble to unlock its hidden powers and make your projects multifaceted and interesting. No need for buying anything! Just pair with Bluetooth and go abracadabra!
Just so know, we're about to launch on Indiegogo in JUST A FEW HOURS! Go check us out for loads of DIYing-related cool stuff and even cooler offers and perks on them!