A child's first teacher is its mother.

– Peng Liyuan
A mother, being the first ever human to connect with a child, knows her child more than anyone else. A child is the most comfortable and the most vulnerable with its mother who understands all the things it does not say out loud. Healthy physical, as well as cognitive development of a kid, majorly depends upon its mother and the kind of environment she provides. A kid spends most of its time with the mother, and hence the mother understands the child with a clarity that can rarely be seen in any other teacher or a relative. Putting this unique connection to use, a mother can foster critical thinking skills from a very young age. 
Being a mother is an ever dynamic journey which has one or the other obstacle waiting at every turn. Being a positive influence on the child's growth amidst this extremely unpredictable path is a feat of its own. As a mother, you need to make sure that the kids are provided with an open environment to learn and grow from.
Related: What YOU Can Do – A Parents' Guide for STEM Learning
A Mother and STEM Learning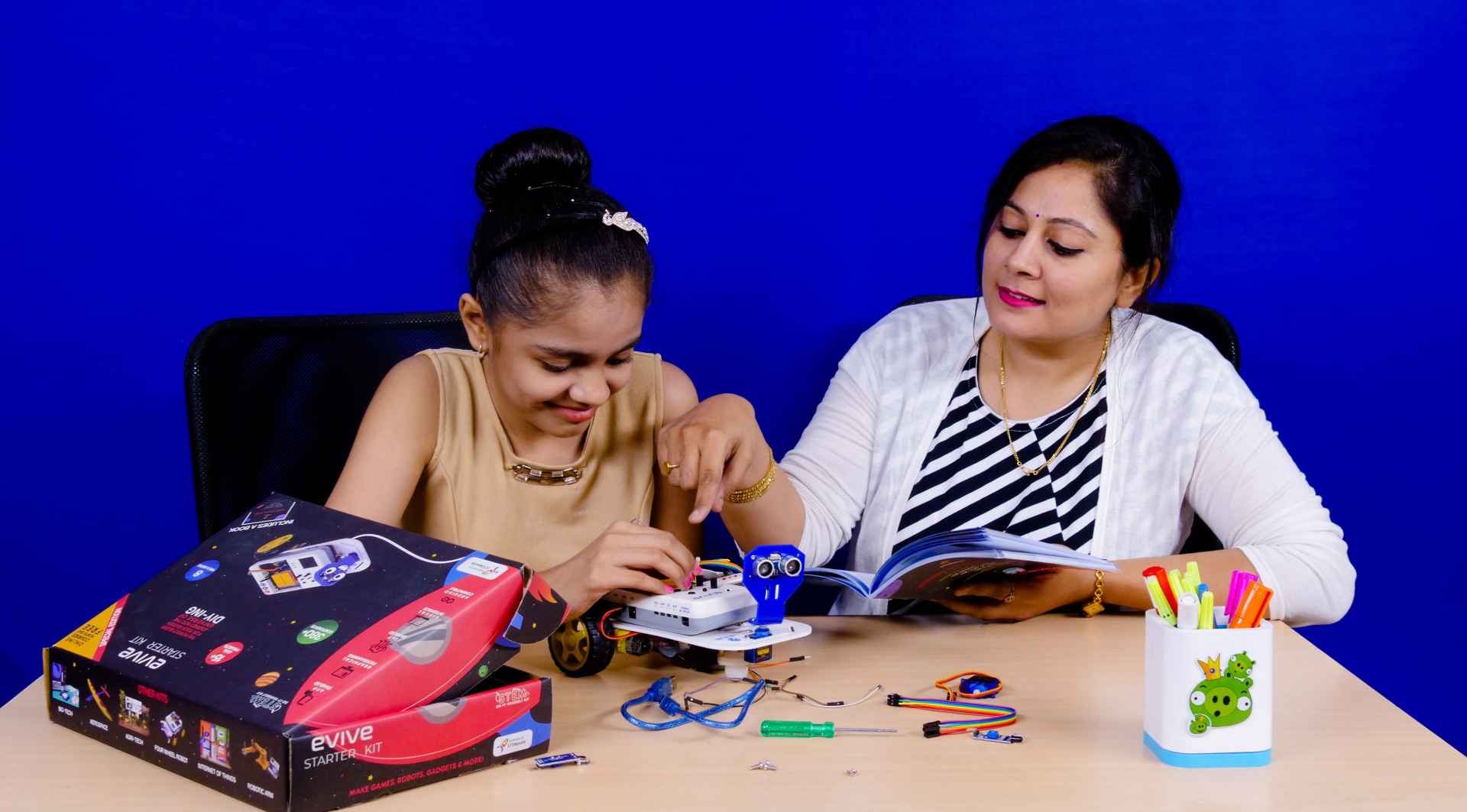 STEM; an abbreviation for Science, Technology, Engineering, and Mathematics, is an approach of education which will revolutionize the teaching sector, especially of India. STEM develops the practical abilities of the mind i.e. critical thinking, problem-solving and innovating. These skills, in turn, develop the cognitive abilities of human brains so that they can grow up and innovate. STEM is the first step to creating a better, technologically more advanced future. STEM can be (and should be) inculcated in the child's life from its formative years – and here is how a mother can provide the child with the best STEM-based environment and growth. 
Children are usually the most comfortable around mothers. When kids ask weird, funny, and unreasonable questions, try to answer them. If they're not answerable, try to find the answers. Communication is the key to learning. Establish an open communication channel. A child should never be afraid of expressing her/his views or asking questions. This is the core base of STEM learning.
A mother usually plays a very important role in her child's school activities. Reaching out to the school officials is a regular thing for a mom. You can use that to your advantage and suggest STEM-based activities to be included in your child's curriculum. You can inculcate STEM learning in your child's extra-curricular activities as well. Some of the famous STEM-based activities include Squishy Circuits, Stop Motion Animation, Catapult Building, and making a mini robot.
As a mother, you spend the most time with your child. Utilize that and take your kid/s to robotics competitions, camps or museums. There are a lot of STEM camps that you can send your child to and make learning fun and easy even while they're not in school. Some of the STEM camps include iD Tech Camps, Alexa Cafe, iD Coding and AI Academy.
India STEM Foundation is an initiative based in India whose mission is to create a world where young people are encouraged to celebrate fun and excitement of science and technology and inspire them to take science and technology-based career paths to become tomorrow's much-needed technology leaders.
STEM-Friendly Environment
Education should no longer be mostly imparting of knowledge but must take a new path, seeking the release of human potentialities.

—Maria Montessori
One of the very difficult things to do is to sit still and observe. Observe what your children like doing, the kind of activities that seem to interest them. These are opportunities for productive growth. Grab them. Provide your children with toys and activities that they show initiative in, but make them STEM-related. Some might say that influencing children too much is not healthy. That's correct. There is a fine line between guiding your kid and intimidating her/him. As the closest person to the child, a mother should pay a lot of attention to the children and make sure that she does not cross the line. You cannot carve your child's path for them; all you can do is give them a little push and provide them with the means. STEM is here to help you with the latter.
One of the best tools for STEM learning is STEMpedia's evive Starter Kit – A mighty creator kit for kids and beginners of all ages to give them the perfect start into the world of electronics, robotics, and programming. It gives kids the ultimate STEM experience with a lot of DIY projects included in the kit.

Related: Parents — First Teachers, Lifelong Learning Companions
In a Nutshell
A child's curiosity is an extremely important asset that flows freely only in front of the person that is the closest to her/him. A lot of times, the mother is the one that fits this role the best. These are some points you can keep in mind to make the most out of the special mother-child bond so that the child/children can grow in the best way possible: 1. Talk to them. More importantly, let them talk. 2. Make sure STEM is inculcated in and out of their schools. 3. Use tools and provide means to carve the path for your child.