In the ever-evolving landscape of education, Artificial Intelligence (AI) has emerged as a catalyst for change. The growing importance of AI in STEM education calls for teachers to embrace this transformative technology. This is where Teacher Training on AI, Coding, Python and Tinkering become important to teach the digital pioneer of tomorrow.
By learning AI, teachers can empower students to thrive in an AI-driven future. Equipping teachers with AI knowledge and skills is paramount to delivering exceptional educational experiences.
Keep reading this blog as we explore the immense potential AI holds and inspire teachers  to embrace this transformative force in the classroom.
 The Importance of AI Knowledge in Teaching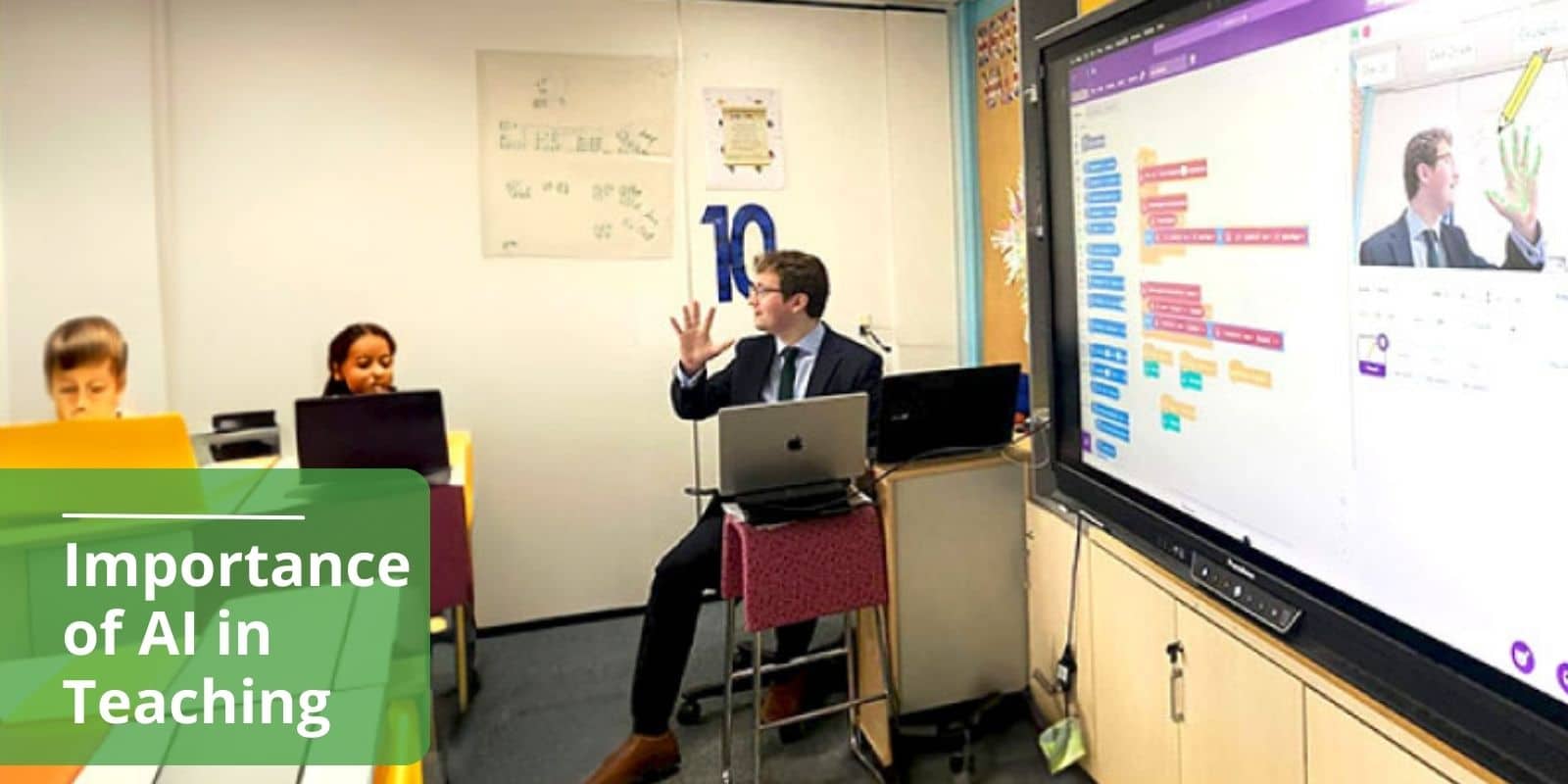 Teachers' AI literacy is important for responsibly utilizing AI tools and guiding students in understanding this influential technology. By expanding their understanding of AI, educators empower students to become proficient AI designers and consumers. Continuous learning in AI is essential for teachers to facilitate students' acquisition of AI knowledge. As emphasized by Daniela Ganelin, a Stanford University doctoral student, teachers must embark on the same learning journey as their students to effectively teach AI.
Teachers' understanding of AI directly impacts students' knowledge and awareness of this transformative technology. If teachers lack understanding, students may miss out on the opportunity to learn about AI's capabilities and limitations.
How AI is Affecting Education?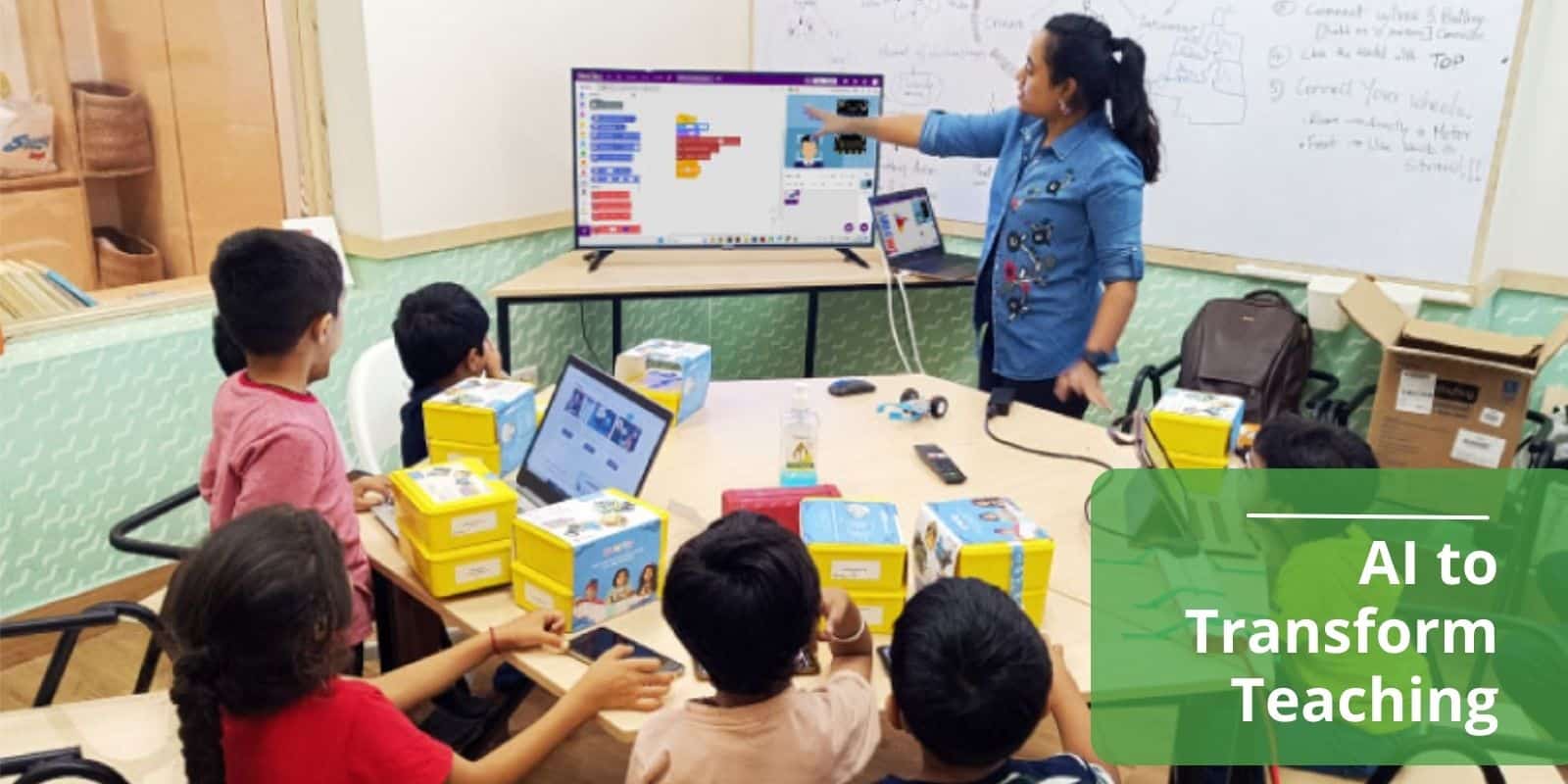 AI is revolutionizing the field of education by introducing a range of transformative capabilities and tools. Here are some ways in which AI is affecting education which brings Teacher Training on AI, Coding, Python and Tinkering into the picture:
Personalized Learning: AI tailors learning experiences based on individual student needs, optimizing outcomes.
Adaptive Assessments: AI adjusts the difficulty of assessments based on  responses, providing real-time feedback and identifying knowledge gaps.
Data-Driven Decision-Making: AI analyzes educational data to inform decisions on curriculum, instructional strategies, and interventions.
Now let's move ahead to know why equipping teachers is essential to guide students.
To Teach the Digital Pioneers of Tomorrow
Equipping teachers with essential AI knowledge and skills is important  to effectively guide students in the realm of AI and STEM education. By focusing on AI fundamentals, data literacy, technology integration, communication and ethics teachers can adeptly navigate this field. This empowers them to facilitate personalized learning, foster ethical decision-making, and prepare students for an AI-driven future. Moreover, it's also important to know that Inaccurate knowledge leaves students vulnerable to misinformation, stealth advertising, and flawed algorithms. By equipping teachers with AI literacy, students gain guidance to evaluate AI systems, make informed decisions, and navigate the AI-driven world confidently. Teachers' grasp of AI intricacies ensures students receive accurate, reliable, and valuable information.
Schools are Upgrading Lab for AI Program and Require AI Teachers
Traditional education systems are constantly moving towards providing technical education to students while preparing them for the digital age, this also includes recruiting teachers for teaching AI in schools. Schools are also investing in upgrading the current ICT Labs to AI Labs for providing AI Education to students and teaching other 21st Century Skills.  
Recent news rolled out where CISCE and CBSE are recruiting teachers and upgrading their existing ICT Labs for teaching AI to the students which indicates that by investing in teacher professional development on artificial intelligence increases the career opportunity as well as enhance student learning outcomes and prepare them for an AI-driven future.
Artificial Intelligence (AI) Education for Teachers
It's important to equip teachers with the necessary knowledge and skills to navigate the AI landscape. It enables them to integrate AI concepts into their teaching, fostering critical thinking and preparing students for the future.
Use of AI to Transform Teaching
AI plays a significant role in enhancing student engagement and creating effective and inclusive learning environments. Here's how:
Inclusive Education: AI supports inclusivity by offering accessibility features such as text-to-speech, speech recognition, captioning, and translation, ensuring that students with diverse needs can fully participate in the learning process.
Collaboration and Communication: AI-powered collaboration tools facilitate communication and teamwork, enabling students to collaborate in real-time, share documents, and enhance engagement beyond physical classrooms.
Personalized Feedback and Support: AI provides immediate and personalized feedback to students, helping them track their progress and make adjustments, fostering continuous improvement and engagement.
By leveraging AI in education, teachers can create tailored learning experiences, foster active participation, and promote inclusivity, leading to effective and engaging learning environments.
Teachers Professional Development on Artificial Intelligence
Training teachers in coding, AI, and robotics equips them with essential skills for integrating these technologies into the classroom, fostering computational thinking and problem-solving. 
Proficient professional growth in the field of artificial intelligence (AI) is paramount for educators as it empowers them with the necessary expertise and competencies to seamlessly incorporate AI technologies into their teaching methodologies.
Here is a brief discussion of key points in professional development on AI:
Foundational Knowledge: Educators gain basic understanding of AI concepts and its relevance in education.
Ethical Considerations: Training addresses data privacy, bias, and fairness in AI use.
Hands-on Experiences: Educators actively engage with AI tools to explore applications and build confidence.
Practical Examples: Real-life cases demonstrate how AI enhances teaching and learning experiences.
Data-Driven Decision-Making: Educators learn to analyze AI-generated data for informed decision-making.
Critical Thinking and Digital Literacy: Training emphasizes evaluating AI-generated information and promoting digital literacy.
Continuous Updates and Support: Ongoing resources and updates keep educators informed about the latest AI advancements in education.
By focusing on these points, professional development on AI empowers educators to leverage AI technologies effectively, promote innovation in teaching practices, and create impactful and engaging learning experiences for students.
STEMpedia's Teacher Professional Development Programme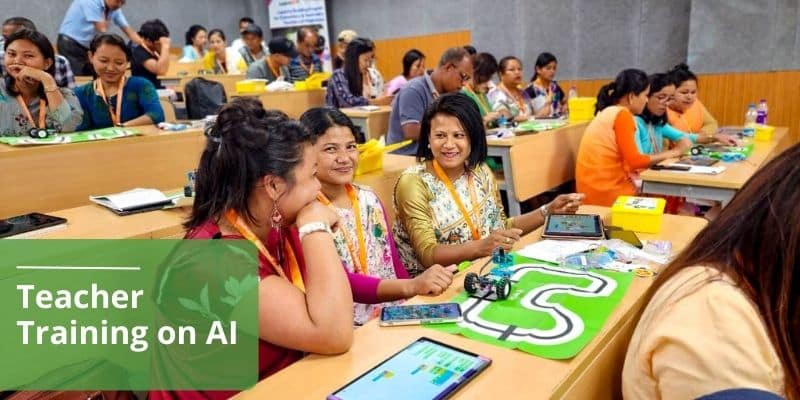 The STEMpedia's Teacher Professional Development Programme empowers educators with the skills and knowledge needed for effective STEM education. Through training modules and workshops on coding, AI, and robotics, teachers learn to integrate these technologies into their classrooms. This programme fosters professional growth, and innovative teaching methods, and prepares students for the future wile ensuring the effective use of AI in education. Participating teachers gain valuable insights, resources, and networking opportunities to enhance their STEM teaching expertise.
Let's move ahead to know more about this programme.
How is the Teacher's Training on AI and Python Conducted?
STEMpedia offers highly personalized teacher training programs that are conducted over 2 to 5 days, depending on the specific requirements of educators and schools. Our training sessions cater to STEM faculty, Computer Science Teachers, IT Staff, and optionally Maths and Science Teachers. The only prerequisite is a laptop or desktop with Windows 7 or above and 4GB RAM and PictoBlox installed in it.

Key Focus Areas in Professional Development on Artificial Intelligence
Our teacher training programs focus on developing essential skills in coding, AI, Coding and robotics. We aim to enhance educators' awareness and understanding of these subjects, enabling them to effectively teach coding, AI, and robotics in their schools. Our training covers block-based coding and Python programming, as well as advanced concepts like artificial intelligence, machine learning, and natural language processing. 
Additionally, we provide expertise in robotics, including industrial automation, self-driving technology, Mars rover, and humanoid robots. Our goal is to equip teachers with the knowledge and skills necessary to inspire and engage students in these exciting fields.
Professional Development of Educators in STEM
Our professional development programs in STEM empower educators with the skills and knowledge they need to excel in teaching. The Program includes Teacher Training on AI, Coding, Python and Tinkering. We offer STEM.org accredited certification, recognizing their expertise and commitment to STEM education. By staying up-to-date with the latest advancements and best practices, educators can create engaging and effective learning experiences for students.
Implementation and Additional Support
Teachers Training is the part of AI and Robotics Lab implemented by STEMpedia, our integrated approach includes a user-friendly Learning Management System (LMS) for seamless implementation. We provide technical support and operational assistance to ensure a smooth experience. Moreover, schools can host events like innovation festivals that celebrate student creativity. STEMpedia supports schools in organizing and conducting these festivals.
AI International Educators Bootcamp
The AI International Educators Bootcamp provides educators worldwide with essential training in AI, Coding, and Robotics. This program is designed to help educators understand the importance of these subjects in learner development and equip them with the skills needed to effectively integrate AI into their teaching practice. By participating in the bootcamp, educators gain the knowledge and expertise necessary to enhance student learning experiences, foster critical thinking, problem-solving, and prepare students for the future.
In a Nutshell 
Teacher professional development with Artificial Intelligence in STEM education is essential for preparing students for the future. By embracing AI, teachers can empower students to thrive in an AI-driven world. The STEMpedia Teachers Professional Development Programme equips teachers with AI knowledge and skills, enabling them to integrate coding, robotics, and AI into their classrooms. This programme promotes innovative teaching methods, fosters personalized learning, and prepares students to become digital pioneers. Join STEMpedia's programme today to transform learning and shape the landscape of education. You can write us at contact@thestempedia.com for conducting AI and Python Teacher Training Programme in your school.