Innovation, critical thinking, analytical skills, adaptability – all of these words, albeit the core pillars of STEM education, sound very… fancy. The words "coding" and "programming" are no exceptions. You would think we're crazy for saying this but there are a lot of similarities between philosophy and coding. Hear us out – 1. Both of them function on reasoning and 2. Both of them are believed to be known by only a certain section of society. That is a very famously misperceived myth. Programming is not limited to "the geeks", nor it is only adults' cup of tea. If approached the correct way, mastering programming can be a child's play (quite literally). In our blog, A Narrowed Down Guide to Learn to Code for Kids and Beginners, we talk about all the benefits of coding for kids and a little bit about how you can proceed to teach your kids any programming language. In this blog, we will guide you through different coding languages that can prove to be fun and easy to learn for your children.
When anyone talks about programming languages, you usually hear the terms like JavaScript, Python, C/C++, and C sharp. All of these are greatly efficient programming languages and every programming aspirant has to learn them one day or another. But are they good for children who are just stepping into the field of developing programs? We think not. So we, the people at STEMpedia dug through a lot of different visual kids coding languages and came up with our most favorite three. Let's take a look!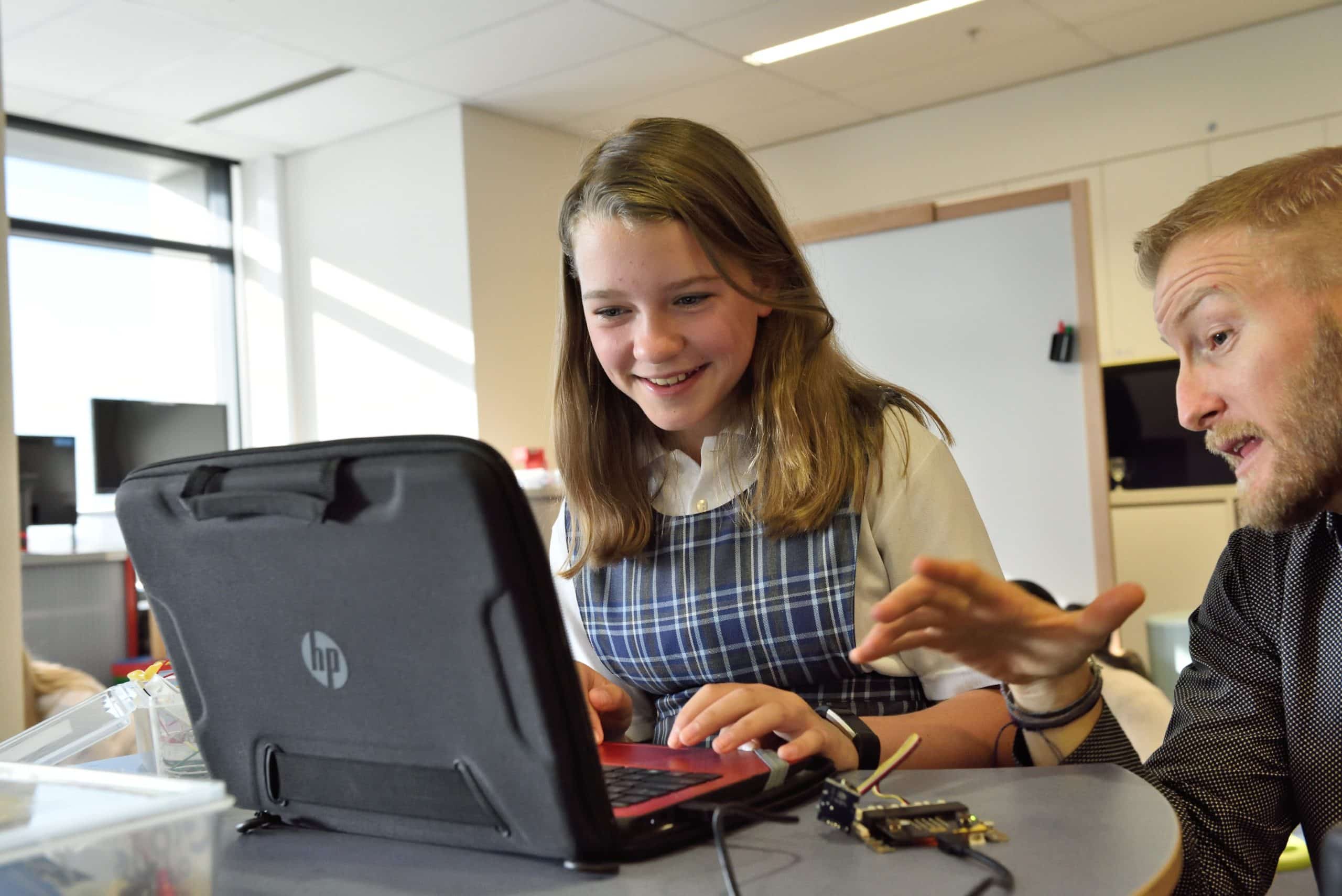 Scratch is undoubtedly the most famous block-based kids programming language developed by MIT Media Lab. To use the words of Mitch Resnick, one of its creators,
So in Scratch, to code, you just snap blocks together. In this case, you take a move block, snap it into a stack, and the stacks of blocks control the behaviors of the different characters in your game or your story.
Scratch is designed in a way to help your children develop all the skills that sound too fancy to be able to develop at the age of 5. According to the community statistics provided on the official Scratch website, 43 million projects are shared using Scratch. As of July 2019, around 3 million new users have registered on and over 19 million people have visited the website.
PictoBlox
STEMpedia aims to make learning a playful experience by introducing new technology-based tools that children can use. PictoBlox is a Scratch-based programming software made especially to make visual programming languages for kids easy and fun. PictoBlox is your go-to Scratch coding software that can help you develop as many stories, games and new programs as you want.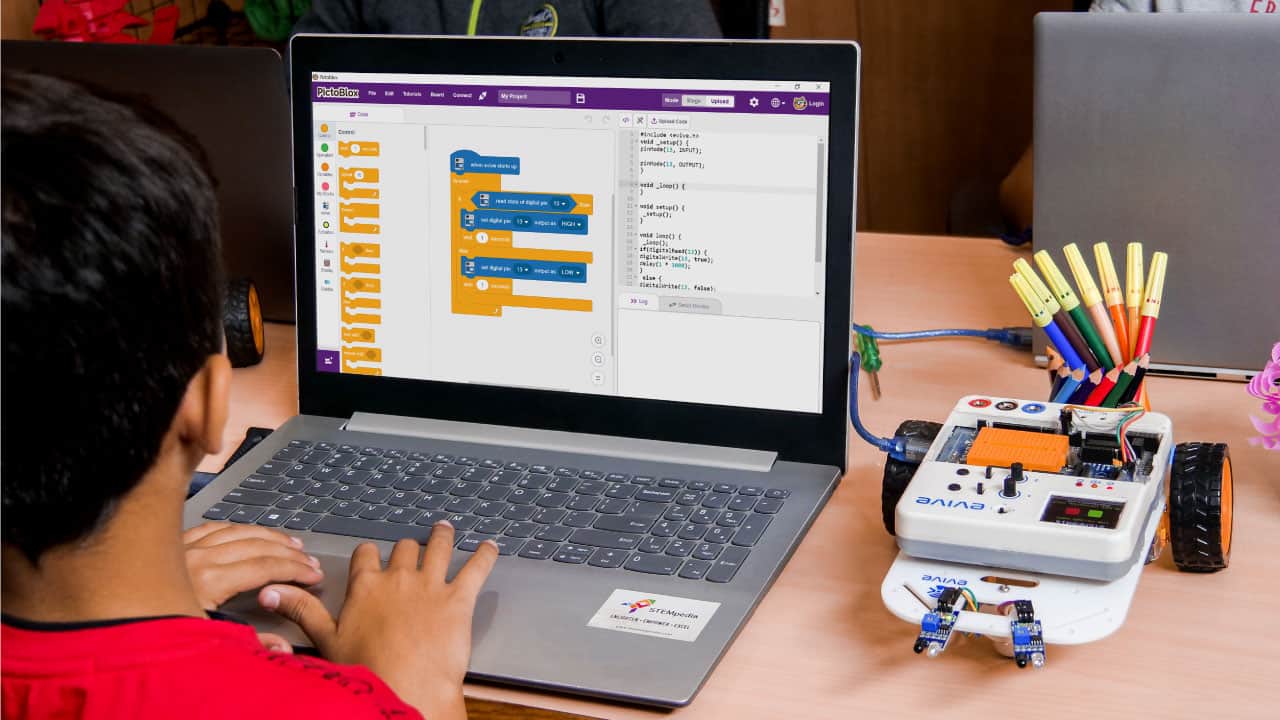 Alice is a similar block-based educational kids programming language that you can use for teaching kids to code. In their own words, Alice "makes it easy to create animations, build interactive narratives, or program simple games in 3D." Alice also provides you with different kinds of initiatives like The Alice Challenge and Hour of Code to keep the community engaged with each other. It has two versions named Alice 2 and Alice 3.
Fun fact: The name Alice pays homage to Lewis Carroll, author of Alice's Adventures in Wonderland and Through the Looking Glass. Carroll was a mathematician, novelist, and photographer.
Blockly is free and open-source software made by our dearest tech giant Google. One of the unique aspects of Blockly is that it allows the users to export the code made using the block system to other programming languages like JavaScript, Python, PHP, Lua, and Dart. You can create your application from scratch using the drag-and-drop method with the blocks given in the Blockly library. You can also create new blocks using JavaScript, or the Block Factory. Using this, you can easily perform complicated codes. It might not be advisable to directly introduce your 5-year-old to Blockly, but after your child gets well acquainted with Scratch, you can surely use Blockly to develop real-time applications. Blockly is a great link between very easy programming languages for kids like Scratch/Alice and the more advanced coding languages like JavaScript/Python.
Codeavour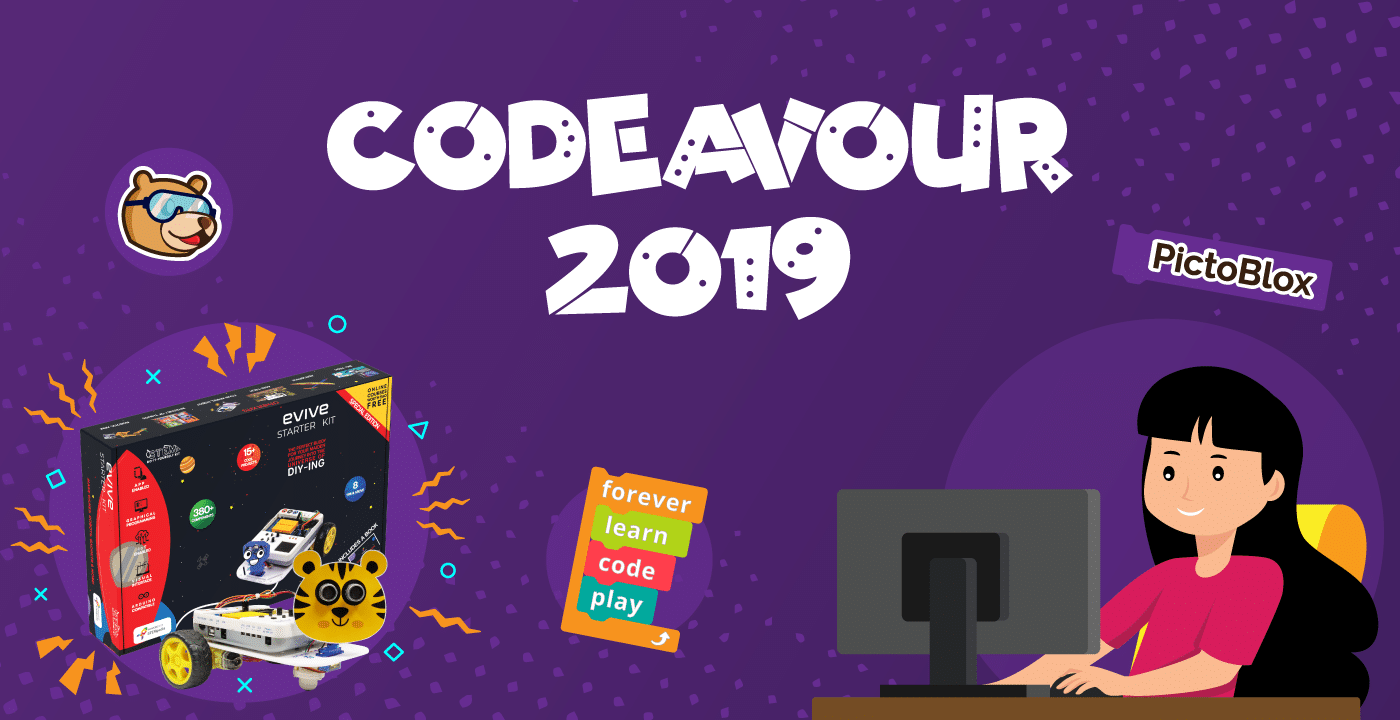 STEMpedia is not only about creating STEM-based software and hardware but it also helps you put your skills to use! Let us introduce to you a unique coding competition for kids – Codeavour 2019! It is a worldwide online coding competition organized for the kids from age 7 to 17 by STEMpedia. The aim of this competition is for kids to use their coding skills to come up with innovative projects that fulfill any of the Sustainable Development Goals given by the United Nations. You can work alone, you can work in a team – we give you complete creative freedom so that you can perform up to your full potential. With the help of PictoBlox, we will also guide you through the basics of coding before you enter into the contest. If we have convinced you enough to participate, you can do that HERE!
In a Nutshell
There are a lot of myths centered around computer coding for kids. In this blog, we address the myth that inserts a bias against learning to code in the minds of children. We also introduce three kids coding languages to kickstart with – PictoBlox (based on Scratch), Alice, and Blockly. All of these are block-based software designed specifically to make coding for kids easy-to-learn and most importantly, fun! At last, invite all of our young innovators to take part in a worldwide online coding competition named Codeavour 2019, organized by your very own STEMpedia!