Technological advancement is at its peak. Every sphere of life is being equipped with high-tech AI, ML and coding based concepts like voice & face recognising robots, automatic AI technologies like Alexa, Siri & Face IDs as they are lessening work engagement and providing time-efficient outcomes in a very personalised manner. These changes explicit that AI & coding will be the two of most important and most demanded 21st-century skills. Therefore, learning these futuristic technologies at a young age becomes the need of the hour. 
Learning these 21st-century skills may seem complex and boring to kids. But what if we mix this mandatory learning with young age joyous enthusiasm i.e. learning AI & coding with wonderful projects, programmable robots, premium courses and workshops, and much more, making your kid's AI & coding learning journey a lot more interesting?
This is happening for real! Yes, you heard it right. STEMpedia is bringing you Codeavour 2021 International – the biggest AI & Coding competition for kids. Offering your kids to create AI projects with Pictoblox, a Scratch 3.0-based programming software with a user-friendly, drag-and-drop functionality enabling you to create projects, program robots and much more. Register your kid for Codeavour 2021 International and avail this wonderful learning opportunity for your kid.
AI & Coding Learning Resources for Kids
The versatility of AI & coding in every big and small domain of life like navigating, communicating, customer care services, manufacturing, etc gives a clear picture that they are two of the most important skills required to excel in the tech-led future and to stand out to rule it. The most favourable way to cope up is to start early. Preparing to become a market leader in an AI-based future should start from a very young age. 
Gearing up kids with the right resources plays a major role in this preparation. But being the right resource doesn't only involve giving knowledge; the way it is presented also matters. If seen from a kid's perspective it must be joyous, interactive, have a hands-on practical approach and avoid boredom. These traits build up to be a smart way for kids to learn these skills and construct their own innovations.
This makes Codeavour 2021 International the most wonderful opportunity for kids to learn AI & coding with exciting projects, super cool robots and interactive courses. 
About Codeavour 2021 International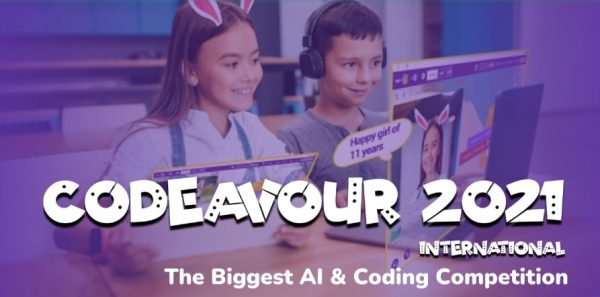 STEMpedia annually hosts Codeavour, an international online AI & coding competition for kids to code with Pictoblox and bring out their inner innovators to solve real-world problems. With a glorious past in 2019 and 2020, engaging 50000+ students from 90+ countries, Codeavour is a huge success.
Codeavour 2021 International empowers kids to explore the exciting world of AI & coding and develop critical thinking, creativity, collaboration and communication—the four Cs of 21st-century skills.
Codeavour 2021 International has the following 6 themes:
Strengthen the Health Infrastructure

Automate the Surroundings

Make Smart Transportation System

Entertain the World

Save the Environment

Explore the Outer World
Participants of Codeavour 2021 International get to immerse themselves in hi-tech AI concepts like voice recognition, automated driving, in a healthy competitive environment, empowering them to get out of their comfort zone and present innovative solutions to solve real world problems.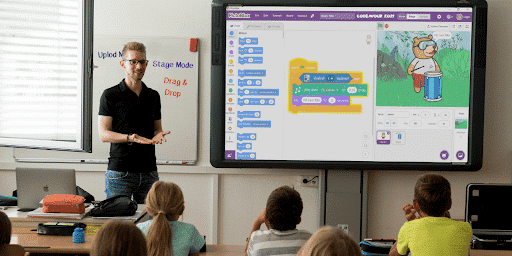 They get an amazing opportunity to code with PictoBlox, a Scratch 3.0-based programming software, enabling them to create animations, interesting games, wondrous projects like self-driving cars, AI-based Home Automation, and much more. code and control robots. Also includes advanced tools and Python-based interface for those who want to expertise in the field of coding.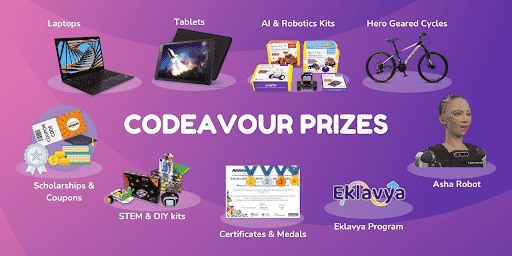 This awesome AI and Coding competition is intended for students ranging from 7 to 18 years of age. Winners of each age group will receive exciting prizes like laptops, tablets, AI, robotics & STEM kits and Hero geared cycles all of which sum up to more than 80 prizes worth $15000!
Participating in Codeavour 2021 International would also – 
Get you a Certificate accredited by STEMpedia and

STEM.org

.

Make your AI learning journey more interactive with 5 days AI and coding bootcamps.

Resolve your AI & Coding related doubts with weekly doubt sessions.

Open you up to real-world problems and provide you an opportunity to come up with solutions for them through your innovations.

Give you an opportunity to work as a team and learn collaboration.

Brush up your creative and critical thinking abilities.

Give you an experience of participating in a global competition and interacting with people from all over the globe.
In a Nutshell
Reading through the above sections might have made you more clear why an online coding competition is a great choice for your kids to learn AI & Coding and why Codeavour 2021 International is the right fit for this purpose. Codeavour 2021 International wouldn't just give your kid an opportunity to learn and code but also become a problem solver and an active contributor in solving real-life problems of the globe.
So, make a move and register your kid for Codeavour 2021 International and add wings to their AI learning journey.