With the rise of AI and robotics labs across the world, the improvement in the quality of research has been impressive in the fields of AI, robotics, and Machine Learning. AI, combined with robotics, is leading the way into the future and establishing itself in every industry. 
Today, we have built robots that can assist us in performing high-precision surgeries, conducting rescue operations, and even providing caregiving services to the elderly and needy. The involvement of AI and robotics in our lives will only get more intricate over time and we must prepare ourselves for the revolution it brings. 
30 percent of all jobs will get automated and 85 million workforces will be disrupted by 2030. These statistics might be fascinating to some people and scary to others but they'll be common to all. Whether you are in technical work like engineering and web development or non-technical work like writing and designing, technology will be a compulsory part of your work!
Suffice it to say that we need to equip our tomorrow with the intelligence of a generation fluent in knowledge of technical concepts like AI, robotics, and coding. But how do we get there from where we are now? The first step, always, is to recognize our challenges in order to overcome them.
NEP 2020 – Restructuring Education with Technology
So far, our education system has been vastly centered on memory-focused and theory-based education which often promotes rote learning and compromises a student's complete potential. 
Where and how are they going to use everything they so vehemently memorize in order to pass their exams? 
It's important for students to develop a practical and conceptual understanding of all that they learn. In order to improve education in schools, the Union Cabinet of India introduced the National Education Policy (NEP) 2020.
NEP 2020 has introduced a comprehensive framework for K-12 education in schools that will focus on equipping students with resources to develop a keen understanding of their subjects.
Some of the main highlights of NEP 2020 are as follows:
Developing conceptual understanding in subjects like Maths and Science.

Focus on the hands-on, practical application of what they learn instead of mere theoretical knowledge.

To encourage and inspire logical reasoning, computational thinking, creativity, and innovative thought processes in students.

To teach life skills like communication, cooperation, resilience, and teamwork.

Technology-extensive classroom experience that improves the level of conceptual understanding in students and teachers.
Aligned with the guidelines of NEP 2020, CBSE has introduced these core skills subjects to be included in school curriculums for 6 to 12 classes:
Coding

Artificial Intelligence

Data Science

ICT (Information and Communication Technology)
These core skills subjects will help students prepare for a technology-driven future while also learning crucial life skills that go beyond classrooms. AI and robotics labs have the potential to provide a complete experience that aligns with NEP 2020 structure. 
AI and Robotics Lab in Schools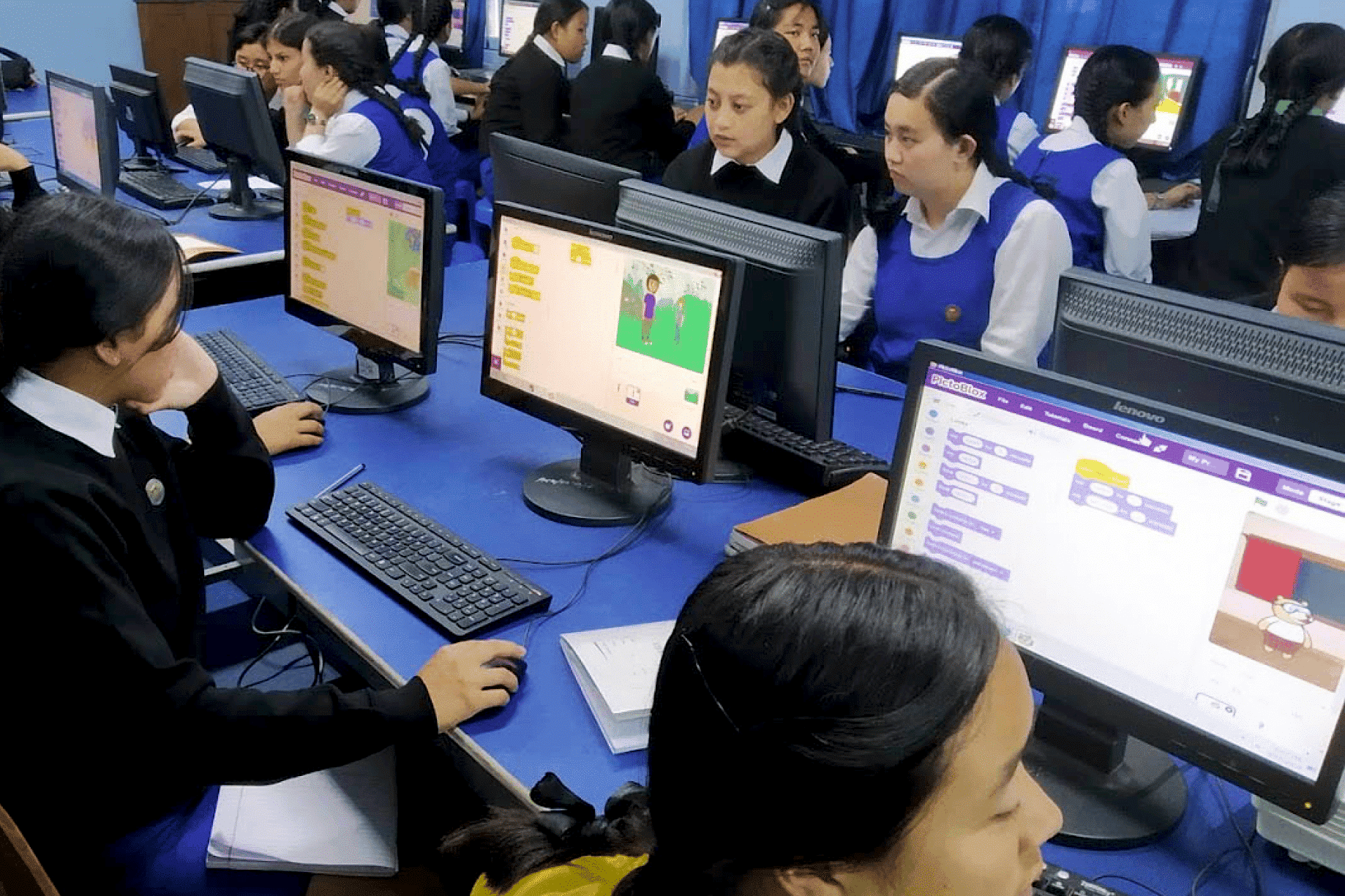 Although AI & robotics lab is crucial for the education of students today, many people have no idea what it entails to set them up. So let's start with the basics…
What is an AI & robotics lab?
An AI and robotics lab is a holistic ecosystem that combines Coding, AI, and Robotics in a classroom setting to encourage hands-on learning of the core skills subjects we mentioned above.
Setting up an AI and robotics lab in schools will ensure that students don't just read and cram about something but instead develop a deeper understanding of those lessons. But beyond that, let's have a look at some of the reasons for good AI and robotics labs in schools:
AI and robotics

are no longer concepts of a far future – they are already shaping up the world. The future of almost every industry will be driven by technology and it's no longer a matter of choice but that of necessity.

Setting up an

AI and robotics lab

will bring innovative minds to the forefront of society and give students a chance to grow beyond classroom theories.

Better career opportunities will be near impossible for the future generation without the help – and knowledge – of concepts like

AI, robotics, and coding

.

A tech-savvy generation will be able to better contribute to society and its development. Students fluent in technology will be better prepared for the future workforce and help the students connect with the real world.

It will support various types of learners in school and make education a fun and interactive session instead of a boring one.
Many thoughtful educators and schools have already started equipping their students with the resources of an efficient AI lab. In fact, recently, in one of the biggest large-scale moves in the country, the Kerala government has decided to set up 9000 robotics labs across the state in 2000 high schools. 
In other news, the Meerut government also decided to set up mini-science laboratories in upper primary government schools to upskill their students. 
Atal Tinkering Labs (ATL) is another example of the government recognizing the importance of innovative and practical education instead of focusing on rote learning.
As more and more authorities get aware of the importance of practical education, several other questions arise – the questions of what, why, and how.
For instance, what resources or preparations would an educational institution need in order to establish an efficient AI and Robotics lab? Let's find out the answer to this question first.
Prerequisites of AI & Robotics Lab Setup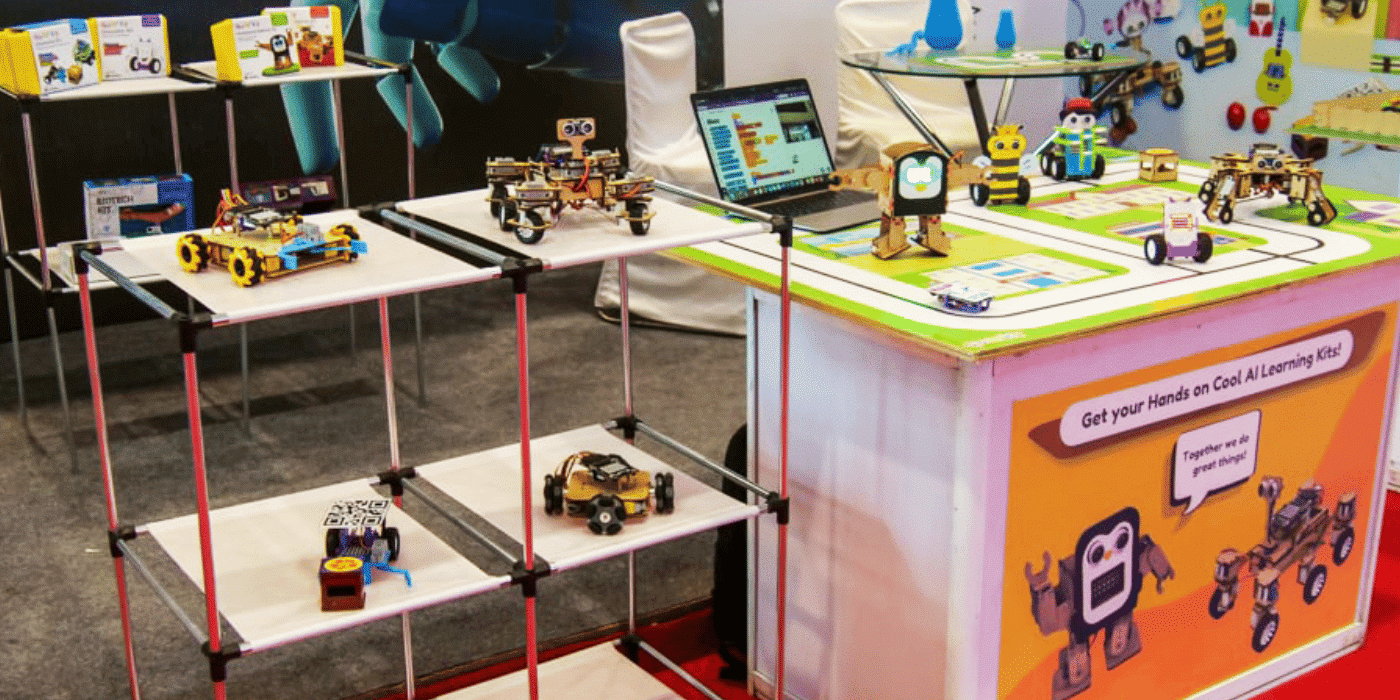 Although it sounds awesome to set up an AI and robotics lab right away, we do understand that there are some challenges that need to be tackled first.
So here are some of the most important prerequisites of a great AI and robotics lab setup:
Technological Awareness
To implement technology in classrooms, both school authorities, and teachers themselves need to be aware of the possibilities and potential that technology presents. 
Students are already growing up with basic technology all around them in the forms of mobile phones, computers, tablets, etc. Teachers new to the world of technology must keep up to help their students carve a successful path.
Educators must have comprehensive knowledge of the concepts of AI, robotics, coding, and other technologies.
Need for a structured AI curriculum
As per NEP 2020, all schools must follow a (5+3+3+4) structure and introduce the technology skills subjects from classes 6 to 12. This requires a structured curriculum for each subject and class, that meets the curriculum objectives as per NEP 2020. 
Need for Infrastructure and Set-up
One of the most important requirements of a great AI lab set-up is infrastructure and quality kits for Artificial Intelligence and robotics. How much space will the lab setup take? Can you compromise on the space without compromising on the quality of the lab? What are the basic requirements to set up an AI and robotics lab?
Moreover, the number of equipment/kits must be proportionate to the number of students. How many hardware kits would be needed for the total number of students? Will there be a need for complimentary software for the lab? Schools need to have all the resources they need within a defined budget.
AI Lab Maintenance Requirements
Setting up an AI and robotics lab is only the beginning. This lab needs to be functional throughout the year and that demands regular maintenance of both the hardware and software components of the lab. 
Additionally, teachers need to stay updated with the latest concepts in AI and robotics in order to guide the students better. 
Features of a Good AI & Robotics Lab Setup
Now, let's say a school meets all the prerequisite requirements of a great AI and Robotics lab setup and can go for it. But how to determine what makes a great lab setup?
An efficient AI and Robotics lab will enhance the overall educational experience of students and teachers alike by providing these essential benefits:
A lack of practical learning can hinder the understanding of students and teachers when it comes to

Artificial Intelligence, robotics, coding,

and technology, in general. A good

AI and robotics

lab should tackle this problem by making education more interactive.

It should help students develop an innovative and creative mindset both outside and inside the classroom.

It should make both learning and teaching fun, increasing the attractive value of education for students and teachers alike.

A great

AI lab setup

should provide not only the infrastructure but also the resources and means of implementing that infrastructure in a customized manner.

It will help the students focus more on the practical aspects of learning instead of a mere theory-based approach.
Components of a Successful AI Lab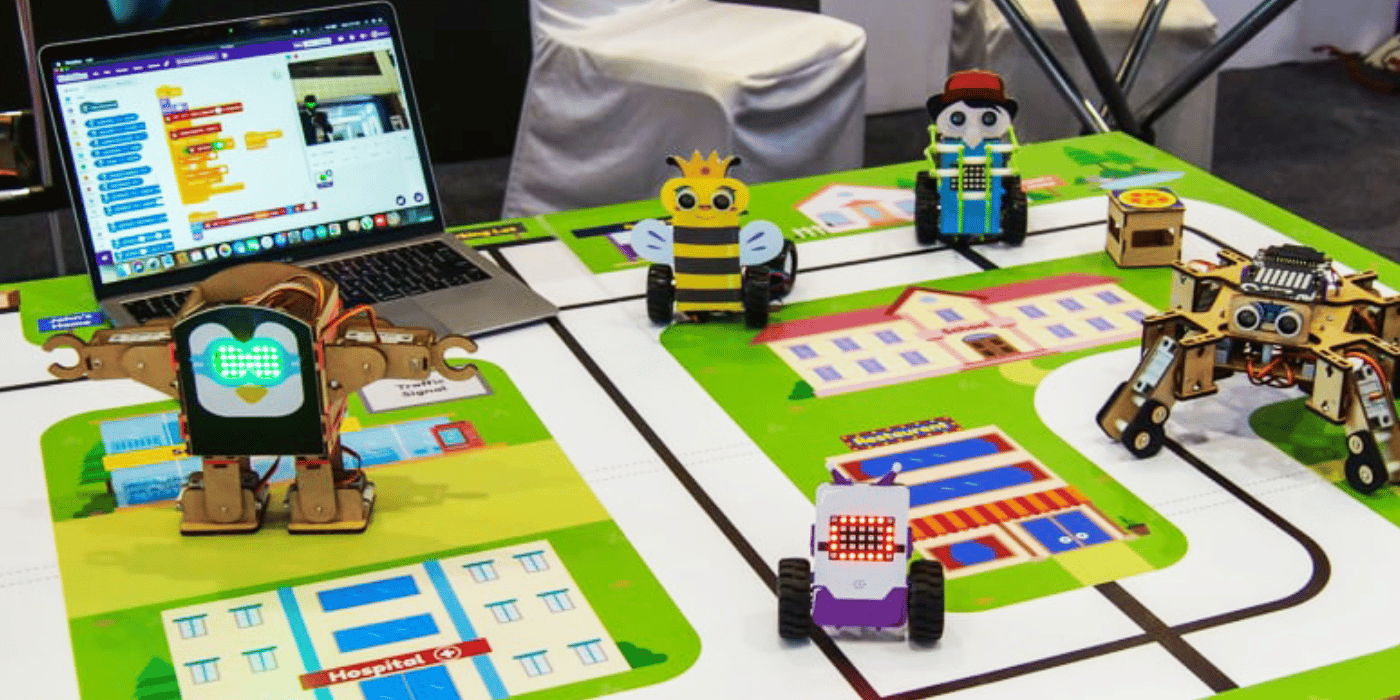 It sounds great to know all about the importance of a great AI & robotics lab and the revolution it will bring to the current educational system in theory. But as we have repeatedly mentioned, it's important to get practical with any approach in order to get tangible results.
Realistically speaking, what does a good AI and Robotics lab look like?
Let's get a clear picture of this! Aligned with the requirements of NEP 2020 guidelines, an AI lab has to be set up in an easy-to-implement manner.
With a keen focus on producing results, a good AI & Robotics lab will have these six essential components:
Structured Curriculum and Resources
Instead of collecting information from multiple unreliable sources, it's necessary to have an A-Z curriculum with a defined structure targeted to meet the requirements of students and teachers alike.
A good curriculum will provide resources to meet the needs of every age group of students in terms of both theory and practice.
Coding and AI Learning Platform
Providing access to coding and AI education platform for students that goes beyond classrooms will ensure students can keep learning even outside the school. 
It's essential to nourish the innovative minds of kids who are passionate about coding, AI, robotics, and technology. Platforms like PictoBlox and competitions like Codeavour provide easy access to the concepts like AI, robotics, ML, and coding for kids.
Classroom Packages and Kits for AI and Robotics Labs
When starting out on complex concepts like AI and robotics, many kids and beginners may face difficulties in understanding them without practical project-making. 
Complementary AI and robotics kits that provide hassle-free project-making and coding experience can tackle this problem with intuitive ease. A complete package that includes everything – from building components to essential add-ons, learning material, and a teaching guide!
Teacher Development Programs
In order to bridge the gap between new practical STEM concepts and older theory-based education, it's important to train the teachers. That's why running Faculty Development Programs is one of the most important components of a good Artificial Intelligence lab. 
Teacher Development Programs focus on training the Computer Science, STEM, and IT faculties in schools with hands-on experience and lessons. This will empower teachers to teach the advanced concepts of AI, Machine learning, coding, and robotics with ease.
International Coding Competition
While a great classroom experience in AI and robotics can ignite the passion for coding in kids, giving a competitive edge to that passion can keep that fire burning in the long run. 
Coding and AI competitions like Codeavour can give students a chance to showcase their talent on a global platform and gain exposure (and exciting prizes!)
Round-the-year Handholding
When starting out on new concepts, learning can be a long path to tread. The deeper a learner's understanding goes into the concepts of AI and robotics, the more complex it gets. 
Round-the-year handholding of teachers through refresher sessions can help educators stay updated on these new concepts and keep learning. When teachers can get their doubts answered on a regular basis, they can teach their students better.
Our AI & Robotics Lab is a One-Stop Solution for All Your Needs
AI and Robotics Lab for schools is a holistic package with DIY Robotics kits, Coding Software, Teaching Resources, and Learning Management Systems to impart the best Coding, AI, and Robotics education with hands-on learning.
It is designed with grade wise certified curriculum and is aligned with CBSE Subject Code 417, 843, and ICSE Subject Code 66 following NEP 2020 guidelines. We also provide onsite capacity training for computer teachers for efficient functioning with year-long hand-holding and end-to-end support.
In a Nutshell
Concepts Like Artificial Intelligence, Machine Learning, Robotics, and Coding for kids are no longer extra-curricular options but an essential part of their education. The future will treat tech-savvy professionals with much more generosity than those struggling with technology. 
With a future focused on technologies like AI and Robotics, we must ensure that our students have a practical understanding of these concepts. And how can students learn without efficient teachers guiding them in a holistic ecosystem designed to meet their needs?
Setting up AI labs in schools is a great way of bridging the technology gap between teachers and students. Without structured guidance in concepts of Artificial Intelligence, robotics, and coding students would be lost in a world of competition and technological advancement. Instead of treating AI and ML as optional subjects reserved for the STEM prodigies of school, we must now make them compulsory and accessible to all.
If there is one thing we are sure about, it's the fact that there is no future without technology. We can let this thought paralyze us with fear or see it as an opportunity to grow. Equipping the generation with tech tools will ensure a prosperous future for all.