AI for kids is a booming sector in the educational industry and not without good reason. The tech-savvy generation is all the more hyped about futuristic gadgets, AI-based robots and AI robot kits for kids. After all, robotics and artificial intelligence are the future of science and technology. Advancements in these areas will make the coming years more productive and change the way of living altogether. These futuristic ideas and predictions make AI and robotics in early education for kids very important.
How to Choose the Right DIY AI Robot Kit?
Most parents prefer to enroll their children in online courses to help them learn more about robotics and artificial intelligence. However, most kids look forward to practical applications and hands-on projects apart from just theory classes. Not only is this method more interactive and fun but also essential to grasp the concepts properly and know how to use them in the real world productively. DIY AI robots are the most popular solution for this purpose. 
There is a great variety of AI learning robots to choose from, so it can get really confusing at times to decide which one to go with. There are a lot of factors to take into consideration before you buy an AI learning robot for your child. An ideal DIY AI robot should be interesting enough to engage your child's imagination and be affordable at the same time. It should also be versatile enough to support different programming languages and simple enough to use, so AI for kids does not seem too difficult. 
We are here to help you make an informed decision by introducing you to an AI and robotics kit for children which satisfies all the requirements mentioned above – The Quarky AI kit. In this blog, we'll explain why Quarky is the best AI robot kit for your child to play with and learn more about AI and robotics simultaneously to become future-ready.
What is Quarky?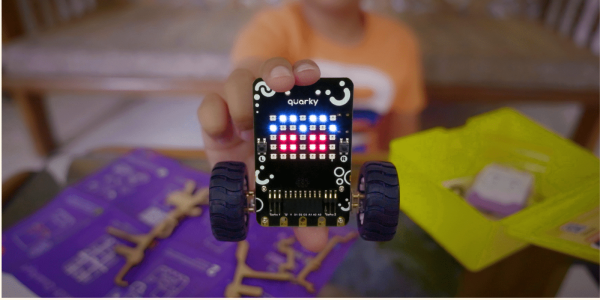 Quarky is an AI learning companion which helps children learn robotics and artificial intelligence and understand industry-standard concepts in an interactive and interesting way. This DIY AI robot kit gives kids the opportunity to make practical applications and hands-on projects using AI and robotics, irrespective of whether they are beginners or experienced in the subject. 
Quarky is one of the best AI robot kits for children aged 7 to 14 years of age. This is because it offers several projects that children can be a part of and make all by themselves. Also, the DIY robot kit comes along with an online course on robotics and artificial intelligence. 
The AI and robotics courses, offered along with Quarky, have been decently priced which makes it affordable for almost everyone. This helps children from all backgrounds to make the most of this opportunity and become ready for the future by learning more about robotics and artificial intelligence in a fun manner with an AI-based robot. 
Reasons Why Quarky is the Best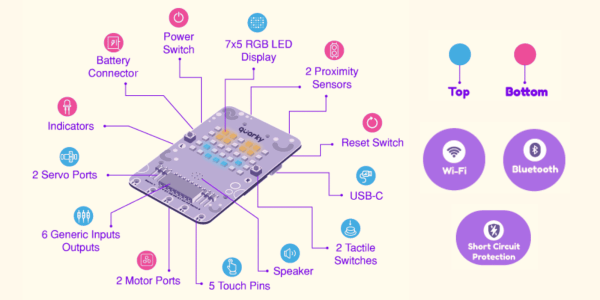 To start with, Quarky DIY AI robot kits are available in two variants – 'Quarky Innovator Kit', which is focused on giving a hands-on experience with AI and lets you make 30+ interesting projects with two robot variations; and the 'Quarky Ultimate Kit', which takes AI learning to a whole new level with its 50+ application-driven activities with 10+ robot variations.
Quarky is revolutionizing the way hands-on experience is integrated with learning AI, and that makes it the number one method for children to learn more about artificial intelligence as well as robotics.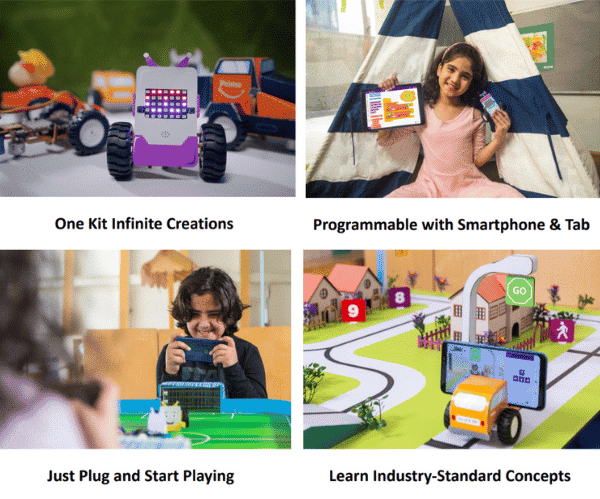 Quarky is a winner and here's why
Fun Projects with Quarky on AI for Kids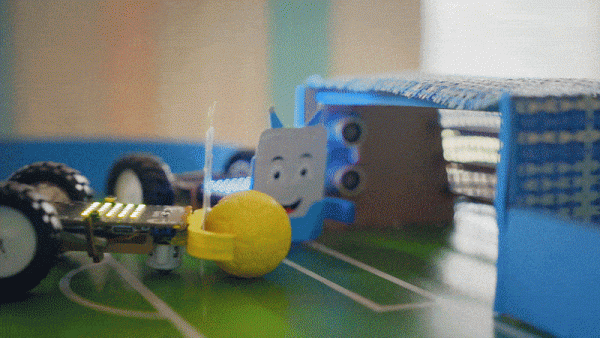 As explained above, the best feature of the Quarky AI robot kit is that it is possible to create more than one project using the same kit. The possibilities range from using Quarky to display different expressions with an RGB LED matrix to even controlling the lights of all the rooms with the Quarky board.
Many such activities can be made easily using the Quarky AI Kit. All in all, the Quraky AI robot kit promotes technological learning and AI for children in Robotics, Artificial intelligence, Coding, and STEM activities.
Online Courses on AI & Robotics with Quarky
Each of the Quarky kits comes with its own set of online courses. These courses on AI and robotics for AI-based robots have live sessions and 24×7 help provided through guided step-by-step videos to help with DIY AI robot projects and activities. These tutor-led sessions are taught by our expert educators who are experienced at teaching in an engaging manner making it fun and easy to learn the concepts. The courses truly embody the future of AI education in the world. 
The curriculum is the right mix of easy, engaging, and exciting material. It traverses a chronological trajectory and introduces topics at a pace that is easy to follow. Featuring concepts like Fun with Music, Road Safety, and even a Home Automation System, the curriculum is a potpourri of activities that involve a variety of situations and topics.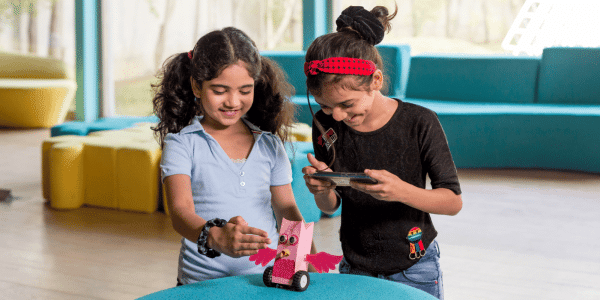 The most defining features of these courses are that they have multiple DIY projects and assignments that are specifically built for children aged 7 through 14. They are assisted by live sessions and regular quizzes to make sure the students are thorough and clear about all concepts covered in the curriculum. What's more, they'll even be awarded a certificate once they reach the finish line!
All About the Kickstarter Campaign
The Quarky kit is ready to fly all the way to your home and becomes your child's companion as they explore the world of AI and robotics. The Kickstarter campaign for the Quarky AI and robotics kit will commence on 17th August 2021 till 22nd September 2021. The purpose of this campaign is to make AI for children accessible at an affordable price.
There are two Quarky kits that are going to be made available soon. One is the 'Quarky Innovator Kit' which is a basic version and perfect for beginners. The other is the 'Quarky Ultimate Kit' which is a little more advanced comparatively and can help students gain the ultimate AI experience from home itself.
If you're interested in enrolling your child for this wonderful opportunity, sign up for Quarky at the earliest and avail of the early bird discount!
In A Nutshell
Quarky is the best AI robot kit for children to learn more about robotics and artificial intelligence in an interactive and engaging manner. It is compatible with smartphones and multiple different programming platforms. In-built activities, projects, and regular quizzes help kids grasp the concepts firmly and gain hands-on experience as well. 
The courses offered with the Quarky AI kits are 'Learn AI With Quarky' and 'Robotics & AI With Quarky'. Quarky is an excellent opportunity for children aged 7 to 14 years to stay up-to-date with the latest technologies and learn industry-standard concepts in a fun way. Refer to our website for more information on STEM products and AI courses for kids. 
Hurry up and join the revolutionary bandwagon of Quarky, the best AI robot kit and sign up today!