Christmas, Christmas time is near! So is the deadline before which "Santa" needs to get presents for all his children. While you look for the perfect gifts to give them on behalf of their dear Santa, here's something to keep them busy this holiday season – 5 interesting Christmas STEM activities. Not only will the kids find these fun Christmas crafts to be engaging but they will also learn the concept of STEM (sometimes without even realizing) along the way! The bonus? These Christmas STEM activities will make being "good" easier for them so that Santa doesn't cross their names off the lift! 😉
(By the way, If you say that you DIDN'T read the first sentence in the Alvin and the Chipmunks' sing-songy way, we know that you're lying.)
Related: Scratch Games and Projects for Kids to Try Before 2019 Ends!
DIY Christmas STEM Activities
Let's make the most of the holiday season with these enjoyable Christmas crafts for kids: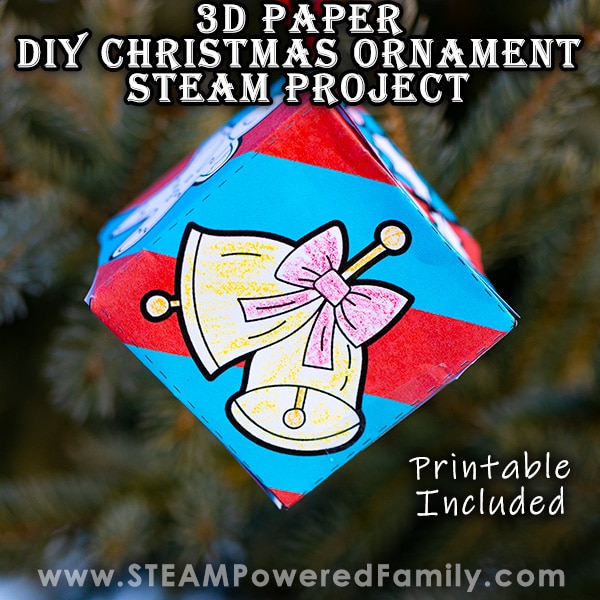 This Christmas STEM activity justifies its "STEM-ness" in every aspect possible – it packed with math, art, and engineering. "How can a Christmas ornament possibly teach math AND engineering to kids?!" you ask? Well, for starters, working with 3D shapes and perspectives is nothing but math, making them is engineering, and decorating them is… you know what it is. Perhaps one of the highlighting features of this Christmas craft is that it is super budget-friendly! 
If you want to go ahead a step further and try out more shapes, visit this tutorial.
Soft Circuit Christmas Ornament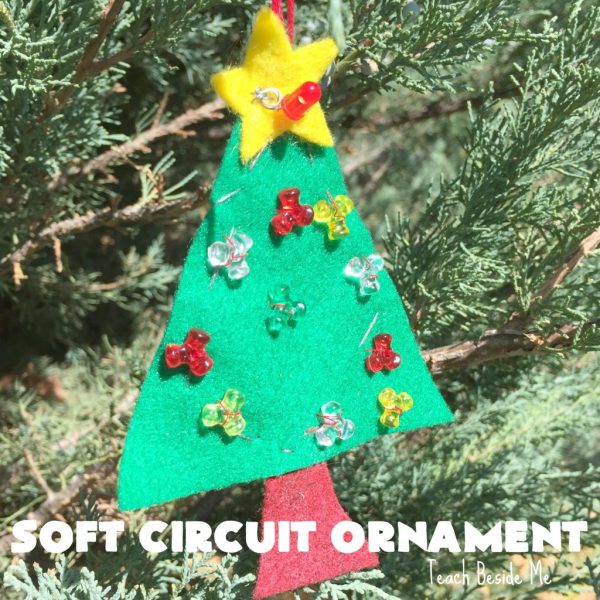 After having made those pretty 3D ornaments let's move on to something "elect-tree-fying". Just like its sibling, the soft circuit Christmas ornament is also one of the many enjoyable Christmas STEM activities that kids can try at home or in school while learning some basic concepts of electricity and art. All you need are some felt, coin cell, a few LEDs of different colors, both conductive and regular thread, needle, sewable battery holder, and some beads and sequins for decorative purposes. You can find out more about this Christmas craft for kids HERE.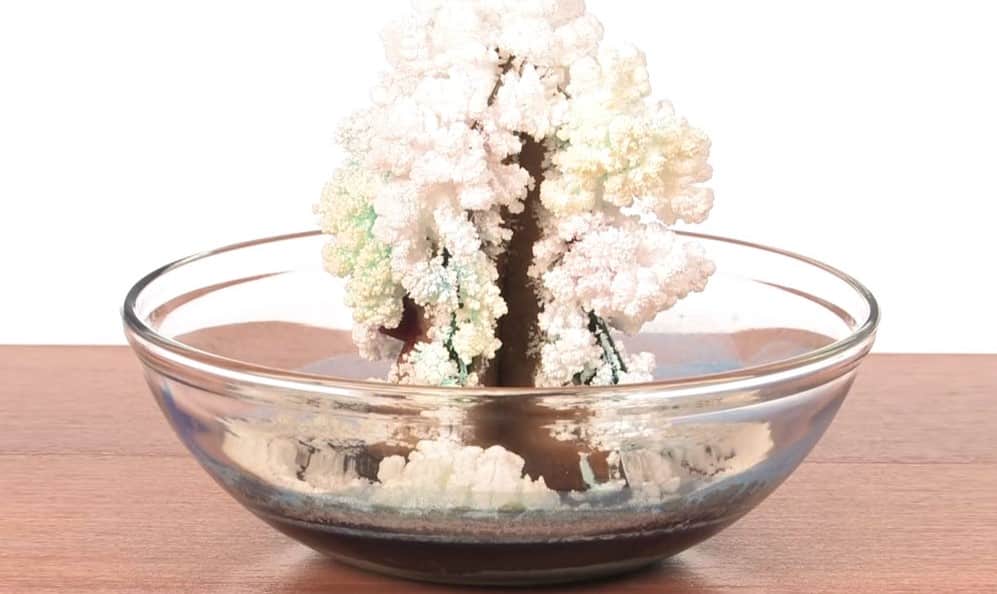 Let's take a break from Christmas tree ornaments and move on to the next activity in our exciting list of Christmas STEM activities. In the previous activities, kids learned concepts of math, engineering, and electricity; with this Christmas craft, they'll learn a thing or two about chemistry and, as the name suggests, crystal formation. Follow the step-by-step instructions given in this YouTube video and decorate your home with colorful and beautiful little magic crystal trees!
Christmas Coding Ornament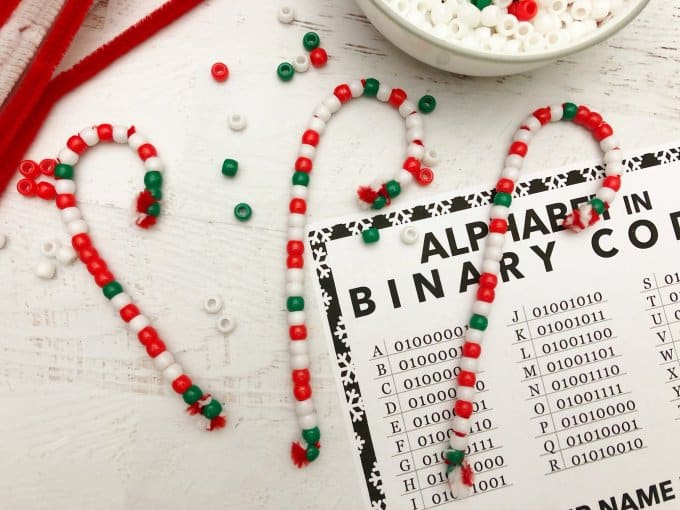 Next in line of our Christmas crafts for kids: Christmas coding ornaments. Okay, we know that we've already made two types of ornaments but this is something that we simply could not NOT make! You surely know that to learn to code you need an electronic device. But do you think a string and a bunch of beads can? Straightforward answer: YES! Well, not the high-level languages that resemble English such as Java, Python, and Scratch, but the most basic of them all – binary. Binary, a language of 1's and 0's is all that a computer understands. So, every letter, number, and character has its own unique set of 1's and 0's. This is the ASCII Binary Alphabet. If you're wondering where do the beads fit in this unique Christmas STEM activity for kids, let us not hold you further: take two colors of beads – one representing the 1 and the other the 0. Using these beads and the ASCII code for each letter you can make any word that you want! How about starting with "Santa" or, even better, "Christmas"?
DIY Unique Christmas Tree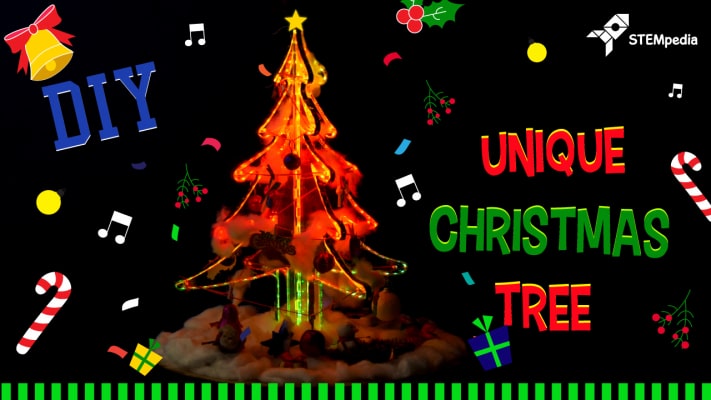 Now that we have a lot of DIY Christmas ornaments, how about making a DIY Christmas tree for these lovely little DIY Christmas decorations? Presenting to you the best of our DIY Christmas crafts for kids: a DIY laser-cut Christmas tree! The DIY unique Christmas tree is one of the best Christmas STEM activities that you'll find. It involves electronic, coding, DIY-ing; you name it! And it's a pleasant change from the other Christmas trees.
This Christmas project is a bit more complex than the other Christmas STEM activities and crafts for kids mentioned above. Kids may require quite a bit of help from their secret Santas. And this will only make the process of making the DIY Christmas tree more fun!
Related: STEM Classroom Activities & Science Project Ideas to Make Your Curriculum Engaging
In a Nutshell
With Christmas just around the corner, the time is perfect for introducing kids to STEM while keeping the festive spirit alive. We present to you Christmas STEM activities that will not only make the holidays fun for them but also teach them something worthwhile. Dive into the world of DIY-ing with these Christmas crafts and let the maker in you come out!
???? Merry Christmas! ????
Feature image from rawpixel.com
Psst! Looking for the perfect Christmas gift? What we have might interest you. Plus, we have a super exciting offer for you as well! You can now get an additional 15% OFF on ALL our products! Copy the coupon code given in the banner and head straight to the store to make your Christmas merrier than ever.