Do you remember Tinkle? That cutesy child magazine? It has everything from comics, fun-facts, to DIYs. Every child's ears perk right up when they hear the term Do-It-Yourself. There is no way on earth a child would miss the opportunity to make a magnificent mess. Except for the fact that you as parents have to clean it up afterward, messes are pretty great. According to Jan G. Hogle, the use of educational toys to supplement traditional classroom lectures is purported by some researchers to increase interest, motivation, and retention, as well as to improve higher-order thinking and reasoning skills.  
Play is a very serious matter… It is an expression of our creativity; and creativity is at the very root of our ability to learn, to cope, and to become whatever we may be. 

– Rogers & Sharapan, 1994
Finding a pattern in the aforementioned mess is what we are here for. After a lot of research, we have shortlisted some of the best STEM educational toys for 8 year olds and beyond (including robot kits!). Get ready for some messy educational adventures!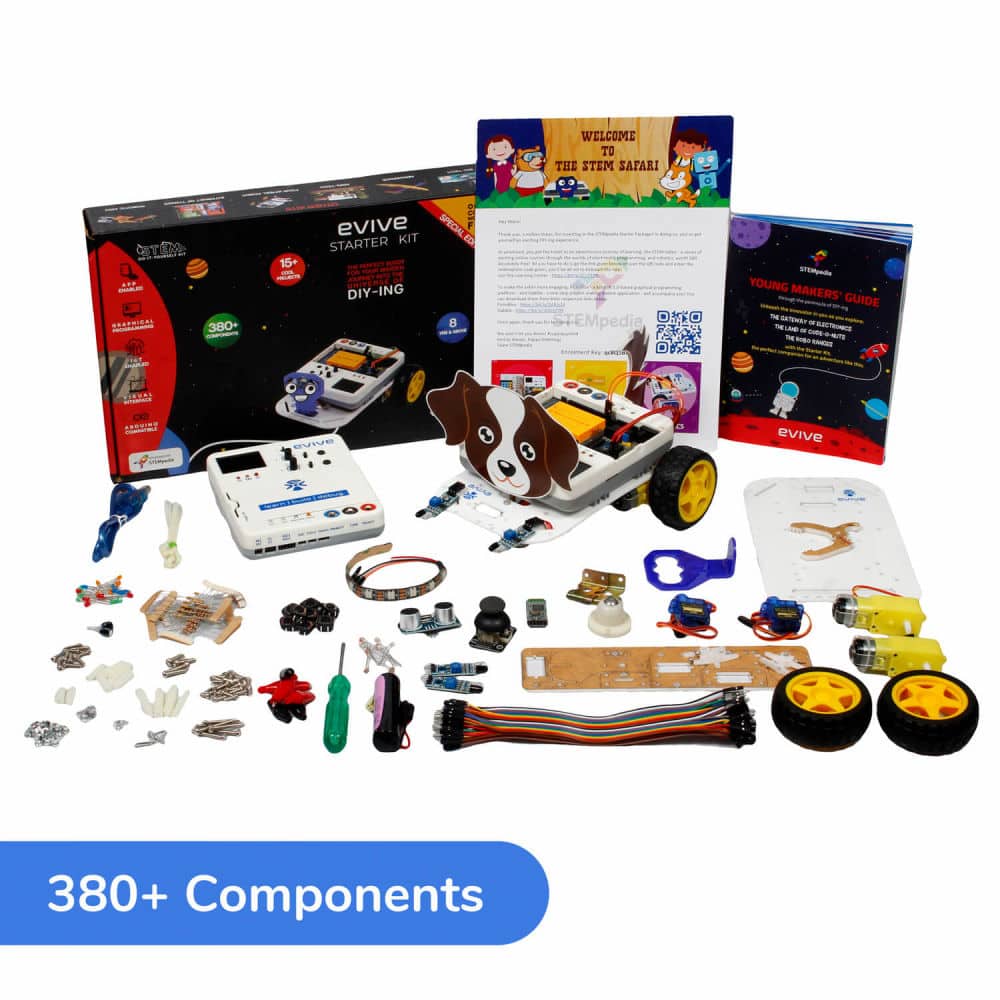 Make your kids fall in love with electronics, programming, and robotics as they explore the fundamentals of STEM with STEMpedia's evive Starter Kit, one of the best educational toys for kids. This DIY robot kit all the basic components they'll need to kickstart their DIY-ing journey. This kit comes with a detailed self-explanatory manual with step-by-step instructions for over 20 DIY projects which can easily be programmed in PictoBlox, a graphical programming software based on Scratch, and can be controlled using Dabble, a project interaction and Bluetooth controller Smartphone app. The best part? It's neither too simple nor too tough to use thus providing the budding creators and inventors with the most effective STEM learning experience.
With all of its features and endless learning with countless DIY projects, the evive Starter Kit is one of the best STEM toys for 8 year olds.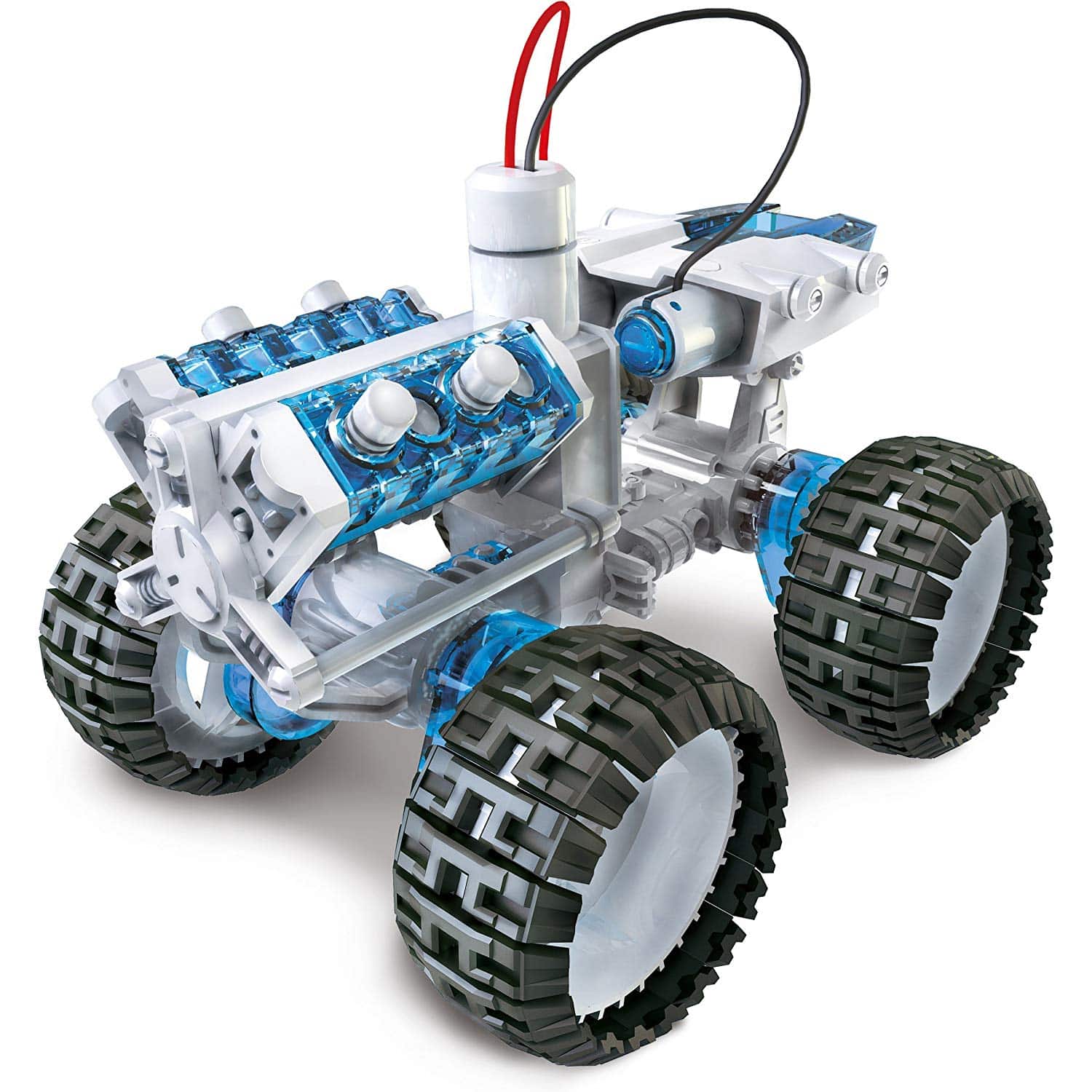 This cell monster truck DIY kit for kids, true to its name, is truly a glorious monster that can overcome almost any obstacle. You can easily assemble it by yourself; it has flexible joints and as the name suggests, it is fueled by salt-water. It is one of the very easy-to-make robot toys that your children will not only enjoy but learn a lot from.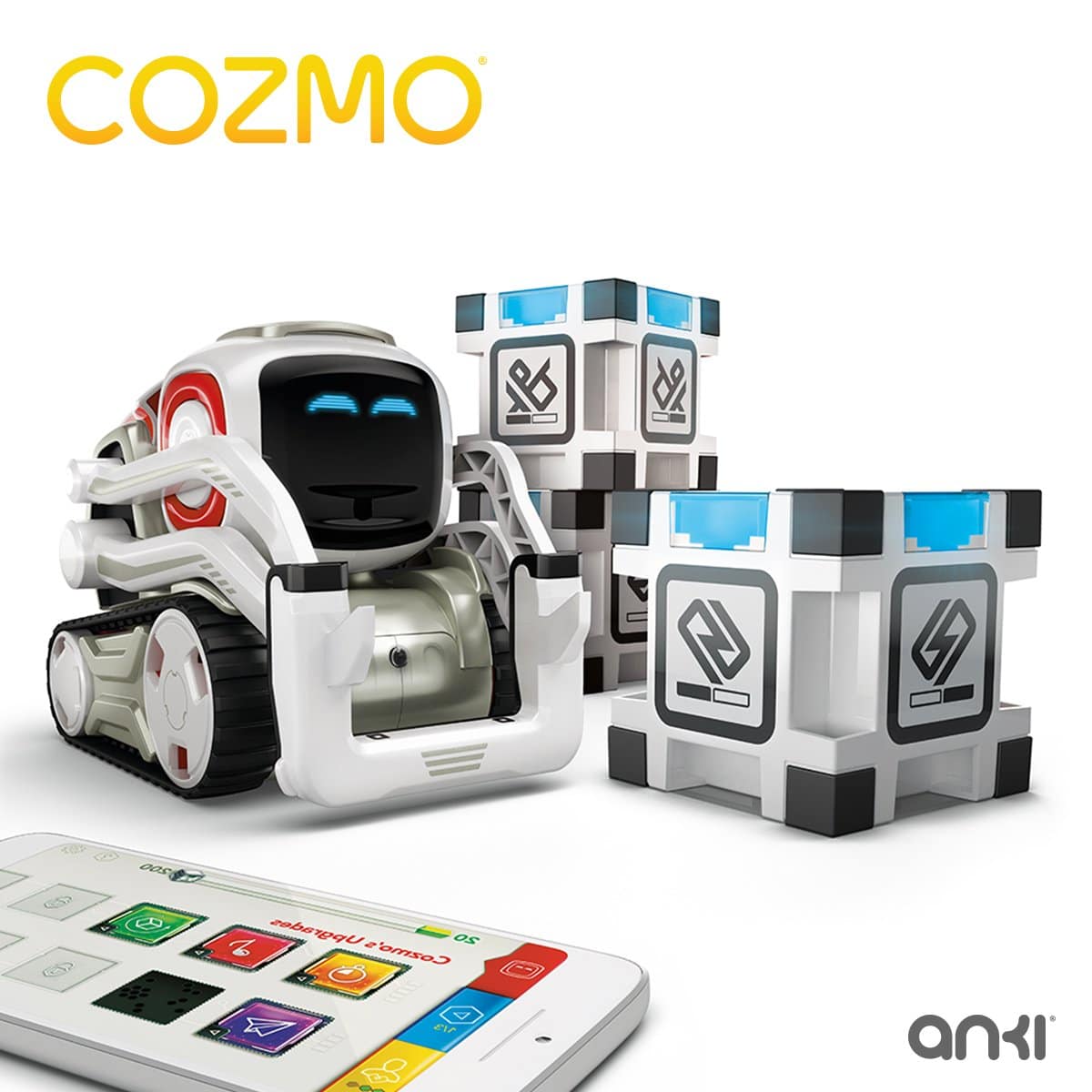 Next up, we have a really cute little robot that we immediately started crushing on. Anki Cozmo is (again) a very cute smartywheels (because it doesn't have pants) who has an in-built face recognition software that actually identifies you and greets you! But that's just another robot, but what makes us consider this beast in our list of educational STEM toys? Well, controlled by a mobile application, you can make Cozmo perform any action that you wish using manual instructions. Not only that but with Cozmo you can also use any of their provided block-based code languages to innovate as you go! (And Cozmo wheels!) What's not to like if you're looking for robot toys for 8 year olds?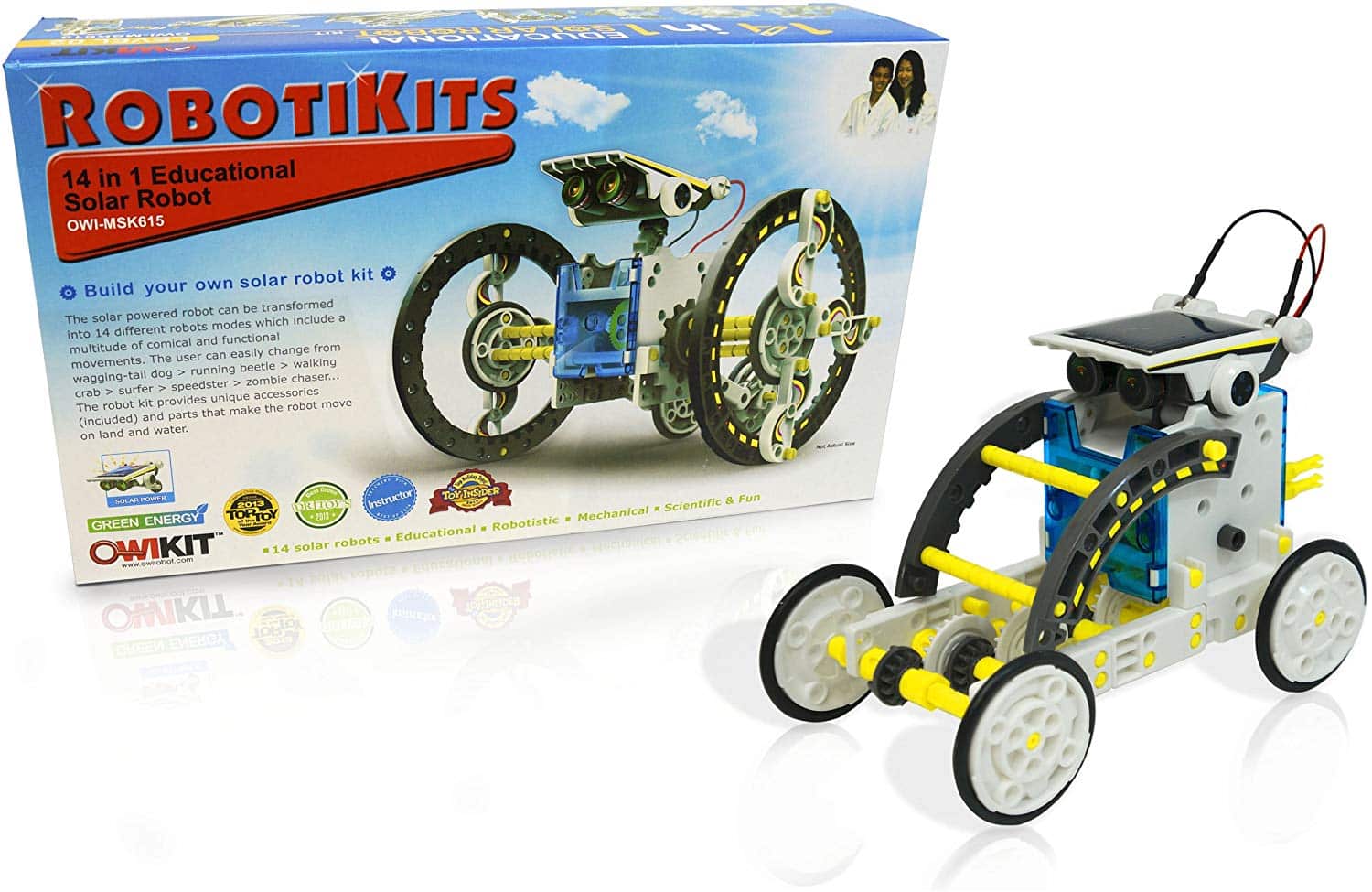 Now we introduce to you the Transformer of robot toys for kids! 14-in-1 Solar Robot is a spectacular beast that can be modeled in fourteen different ways. Building this multi-personality robot requires two levels of skills and hence, it can be built by beginners as well as experienced users.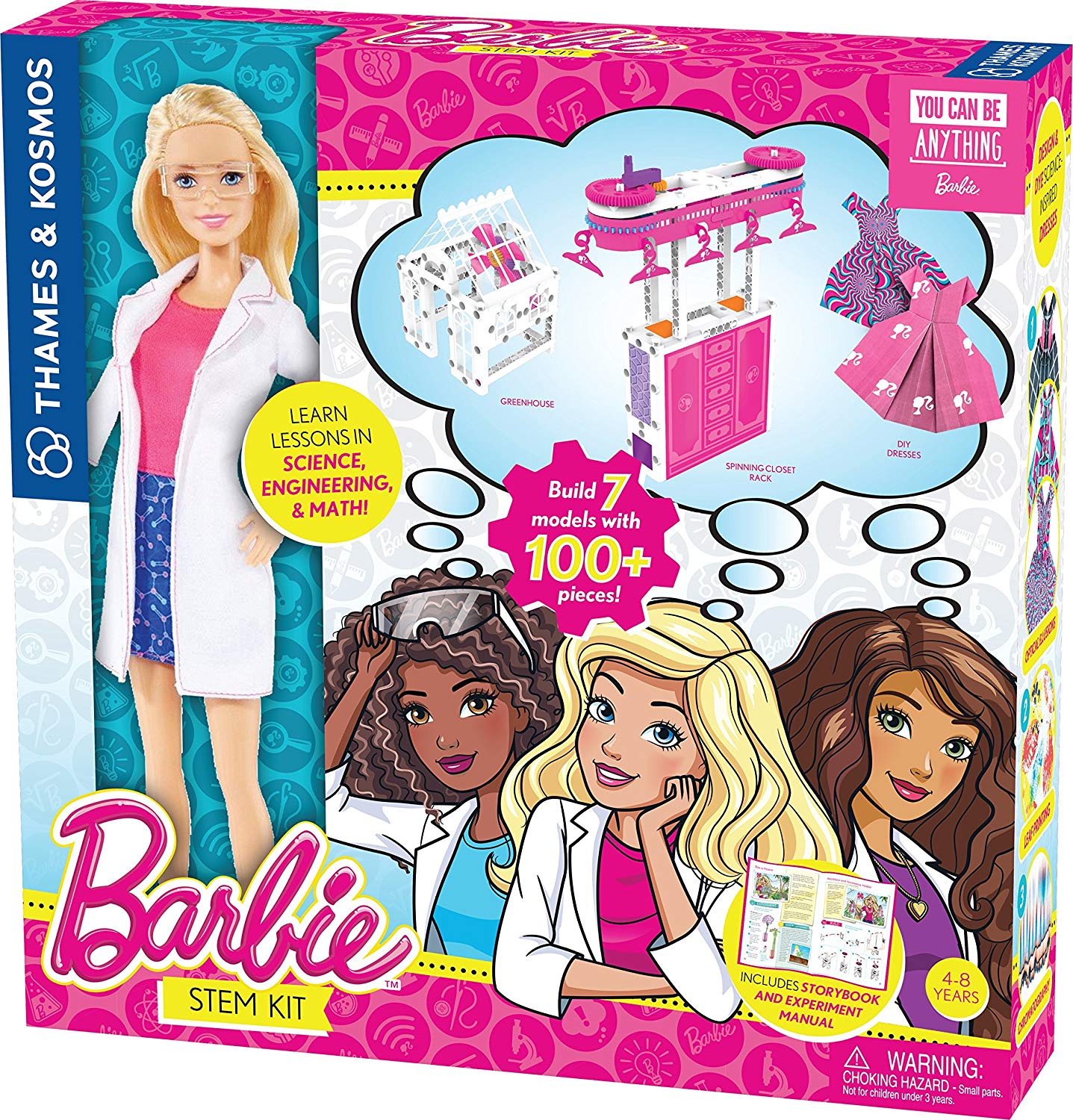 What they usually don't tell you about Barbies is that they are smart, too! Breaking gender/race norms and contributing to making STEM the "new cool", STEM barbie set is here! It is equipped with three highly smart Barbies who learn the hows and whys of machines. You can make 7 models and conduct experiments to put your knowledge to test! Barbie STEM Kit is one of the best STEM toys for 8 year olds.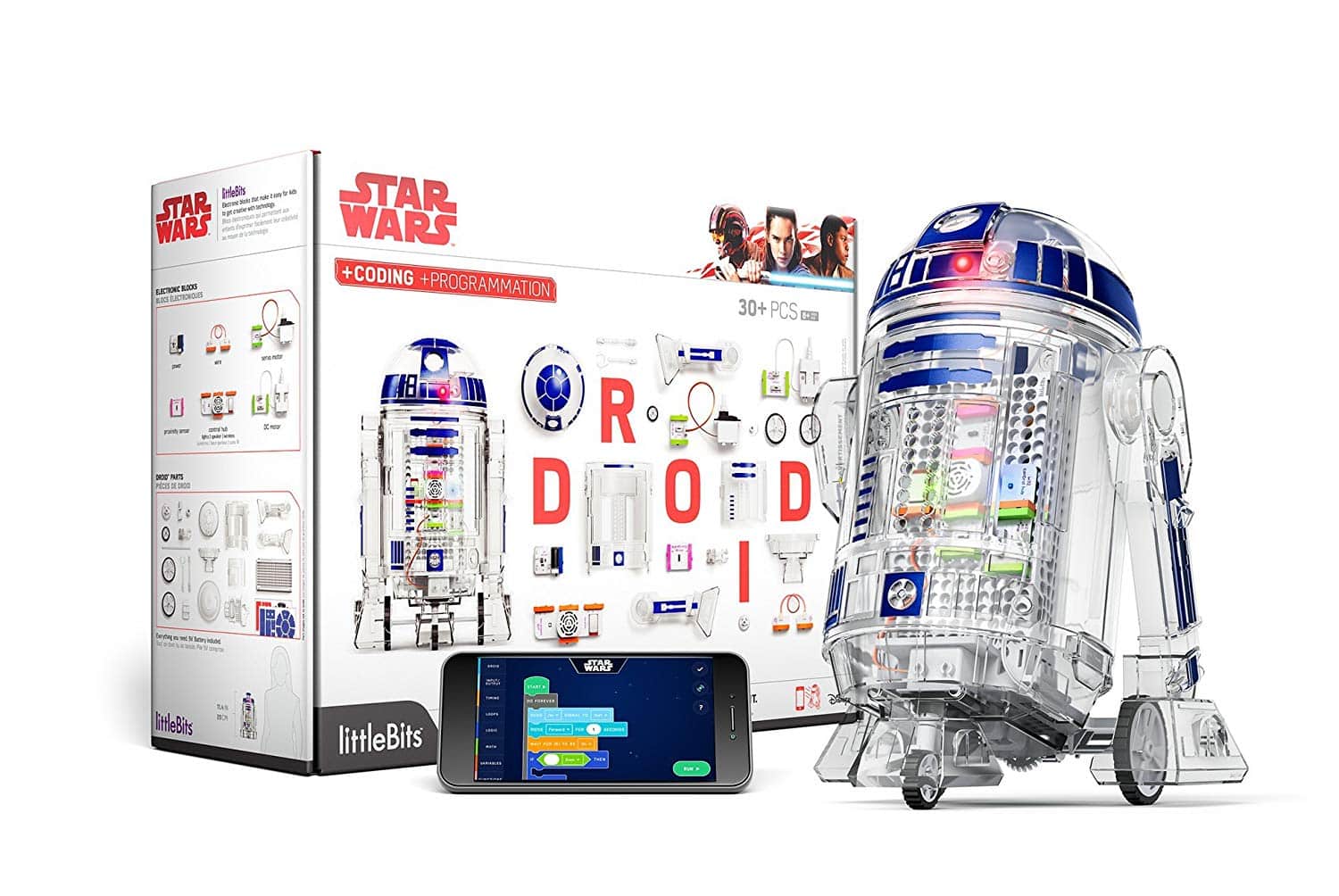 We would be lying if we said we didn't spiral into a star wars binge while reviewing this beauty. (Here's a funny R2D2 video. Thank us later). 
A long time ago in a galaxy far, far away… *ahem. Yes. The article. Thank you for reminding us, R2D2!
This Star Wars based robot kit for kids can make every child's dream come true of owning a very personal droid! This droid inventor kit comes with building blocks so that you can build it from scratch and it can be connected with a smartphone device to breathe life into it. One of the best robot toys for becoming the next Han Solo, huh?
Sidenote: Just out of curiosity, if you had to name your very own droid, what would it be? (We had so many names listed down like H3-R0 (because it's the real hero), GN-I3 (because it's almost like a genie?)… Right. Focus.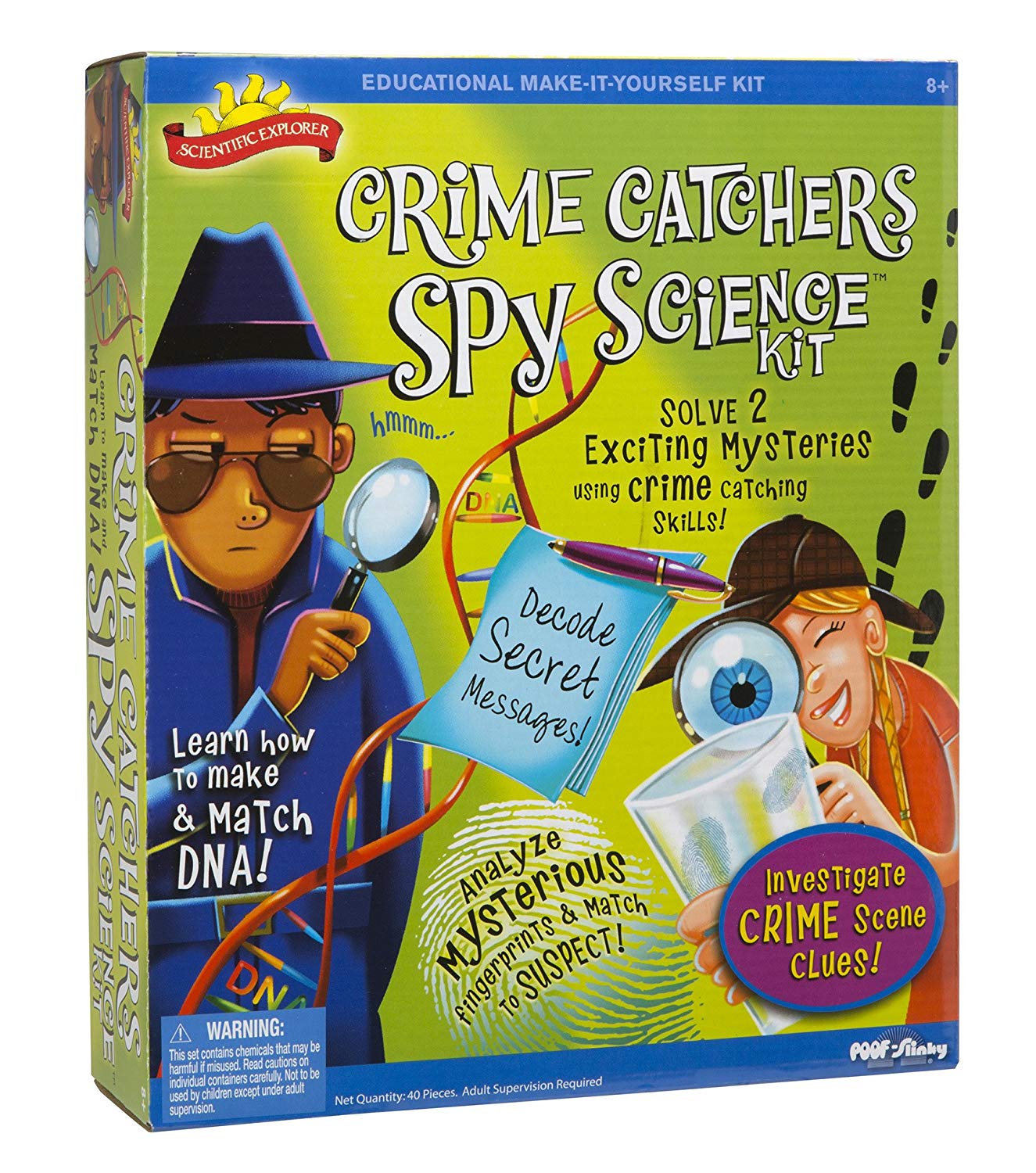 If your kid is a fan of Famous Five or Tintin, this spy science kit would be the perfect gift! This mysterious adventurous kit includes matching fingerprints, testing powders/liquids and even decoding secret messages! This is one of the best STEM toys for 8 year olds where they get a chance to learn while still being "fun and games".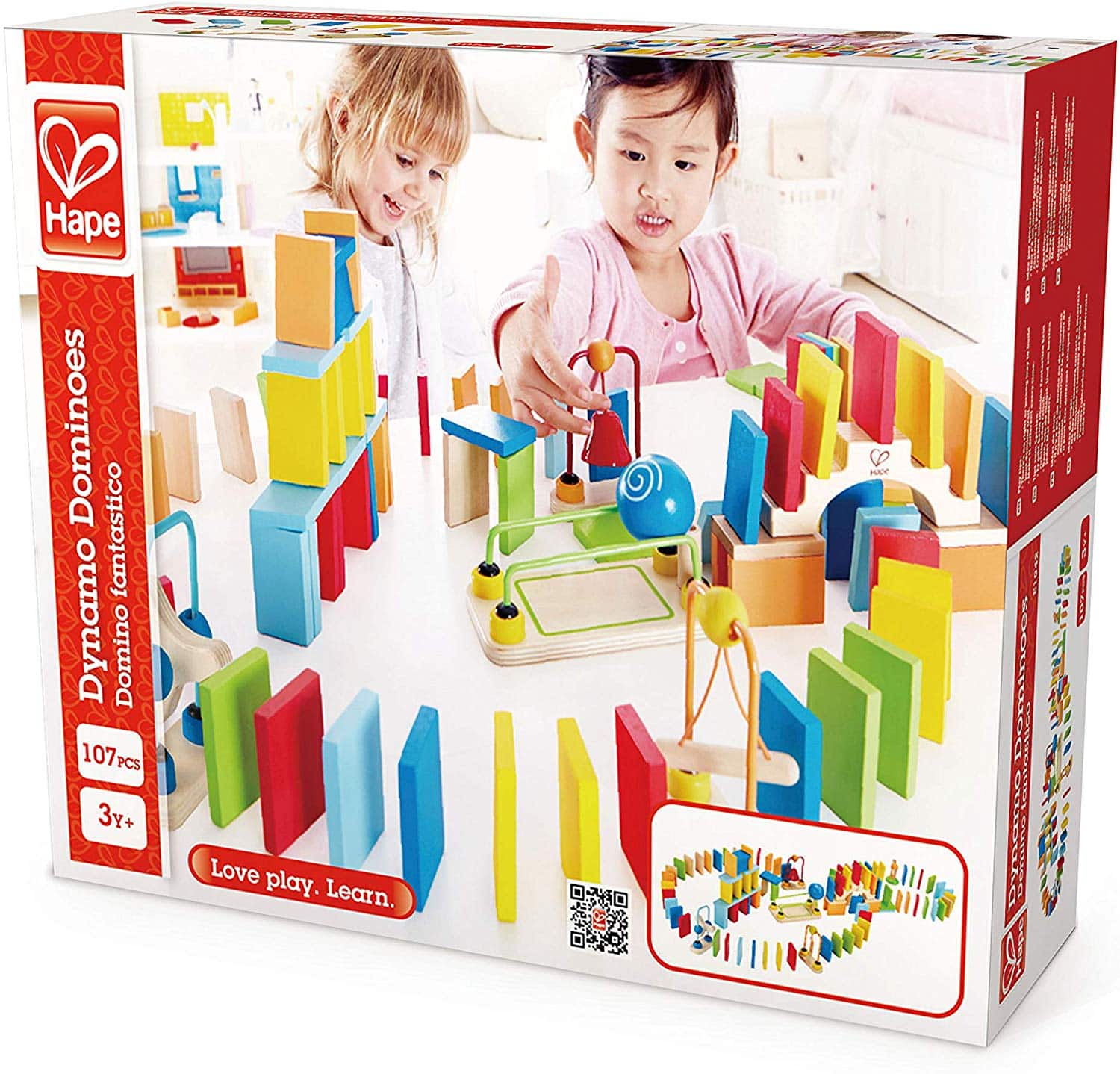 Who doesn't love a perfectly synced destruction of a domino pattern? Well, this DIY kit for kids adds tiny little STEM adventures inside of this big goofy adventure that somehow manages to amuse the human brain. Hape Dynamo's wooden domino set is equipped with over a hundred colorful wooden blocks with additional bridges, bells, and other assorted tricks to "add more drama" to STEM toys for kids. 
In a Nutshell
Educational toys for kids should not be underrated. A lot can be said about eight year old kids based on what they like to play. We have assembled a list of all the educational toys for kids that you can use based on your child's interest. These STEM toys include robot kits, Barbie sets, mysteries, and even dominos! Brace your kids for some fun learning experiences (and yourselves for some cleaning up experiences)!