Robotics, being an alien concept to most of us, may sound tricky and complicated. But today, with a range of robot kits for beginners, it has become simple, accessible and easy to understand. These STEM robotics kits for beginners, especially the Arduino robot kits have made learning robotics a child's play, quite literally. Moreover, with the job sector increasingly demanding the know-how of STEM in applicants, a basic knowledge of robotics and its practical application becomes helpful. Besides, working with a robot kit is a way of improving creative thinking, problem-solving, and computer programming skills.
Engaging oneself with the best Arduino robot kits hold huge learning potential. However, being a fresher with robot kits, it can be quite overwhelming when it comes to buying and using one. So, here is STEMpedia's list of Top 5 STEM robotics kits for beginners!
Also read: Learn Robotics: Best Online Courses for Introduction to Robotics for Beginners
ArcBotics Sparki

Sparki is an Arduino robot kit rated by many reviewers as the best DIY robot kit for kids. The ease of putting together a robot kit matters a lot and this kit comes pre-assembled so it can be used straight out of the box. The kit can be programmed using two different programming languages. If you are an Arduino newbie, you can start off by learning how to use the simple block-based programming environment. Else, you can go for C++. It is easy to learn and work and makes an ideal robot kit for kids and adults alike. 
Along with an array of sensors such as an accelerometer, magnetometer, ultrasonic sensor, and light sensors, this Arduino robot kit comes with a complimentary IR remote, Bluetooth module and a pen, which allows the user wireless control. There is also a 128×64 LCD on board, a piezo speaker and RGB color Led for output and a mini USB and 16-pin breakout with SPI, UART, and I2C. Thus, it is a greatly inclusive DIY robot kit that prevents you from incurring huge costs of purchasing extension boards for your robot kit. Also, with more than 100 free lessons, an open-source platform, and excellent support, one doesn't have to struggle to find solutions to any arising problems when using Sparki. This allows the user to spend more time focusing on learning new things, rather than solving hardware and software issues. 
You can find this STEM robotics kit HERE.
Parallax Arduino Robot Kit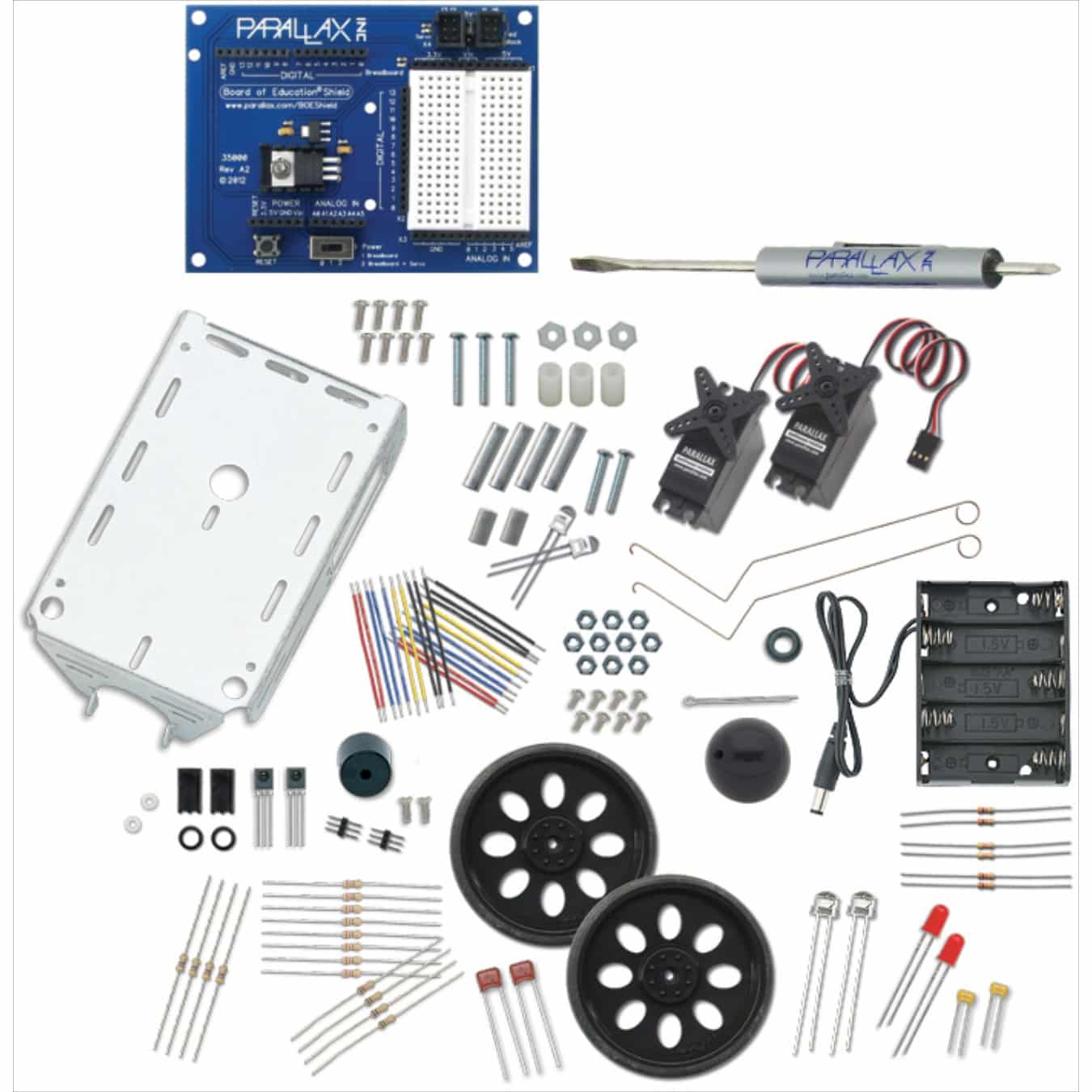 The Parallax Arduino robot kit, besides being a befitting STEM robotics kit for beginners, is an ideal electronics, robotics, and programming learning tool. We call it beginner-friendly as working with the kit doesn't need any programming experience. Its Board of Education shield plugs onto an externally available Arduino board and mounts on the Boe-Bot robot chassis. Using the setup, you can follow more than one Arduino robotics lessons that are provided with the Board of Education Shield. One of the best features of this robot kit is that it is expandable. You can create your own circuit compatible with additional sensors and hardware.
The kit comes with lights and speakers for status indication and has an excellent navigation system. There are touch sensors for navigation by contact, phototransistors for navigation by light and infrared sensors to measure distance and follow or avoid objects. The wheels are driven using continuous motion servo motors which enables easy tracking of wheel position. It proves to be an ideal robot kit for adults as it requires assembly with the Arduino board and there are multiple indicators and navigators to be understood to make complete use of its features. However, it includes lessons on how to use the kit and have 40 hands-on activities that will enable you to learn how to use the different sensors and actuators on the robot kit making the learning process quicker.
You can find this Arduino robot kit HERE.
MakeBlock mBot 1.1 Kit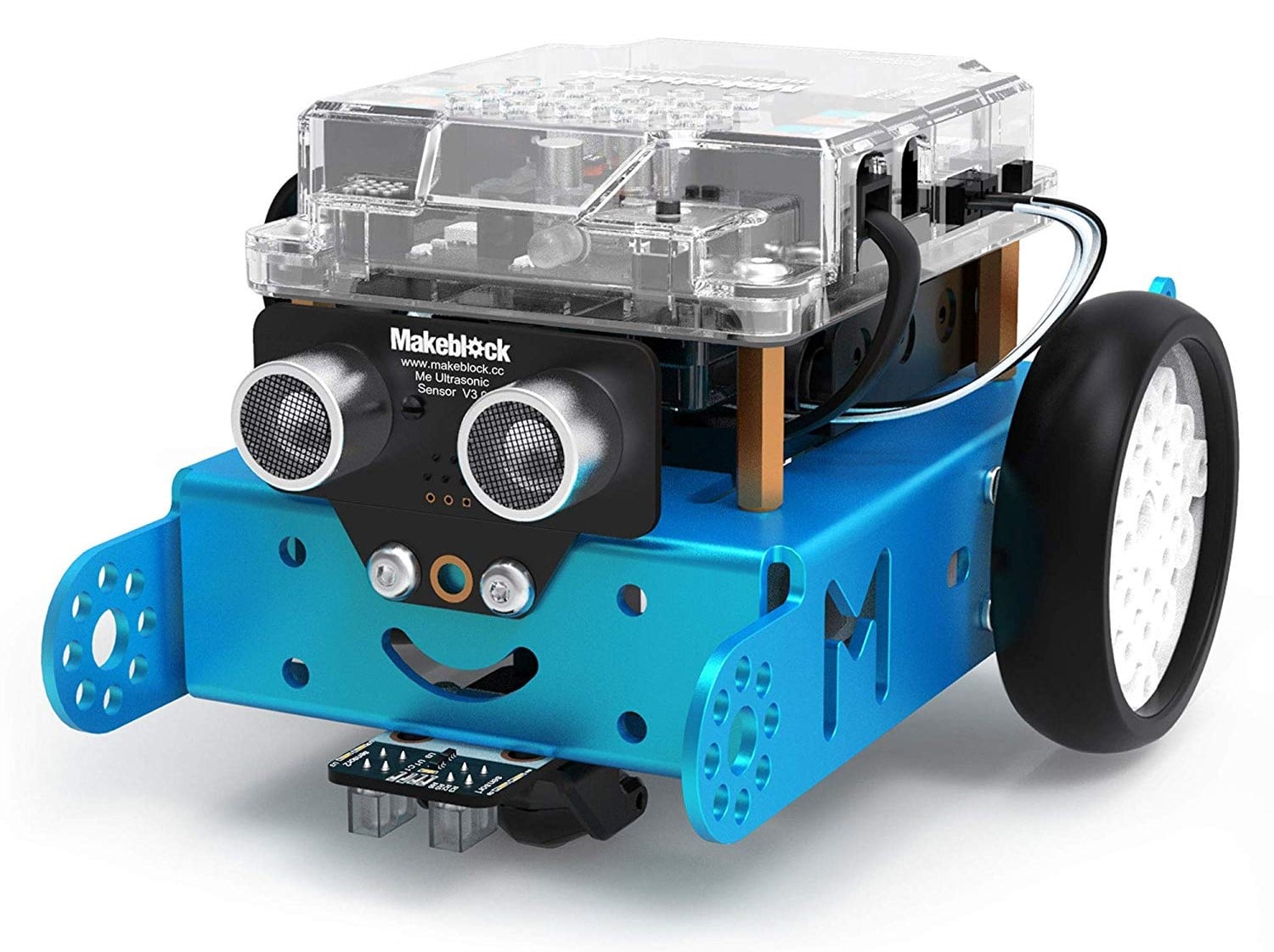 MakeBlock, a leading brand of STEM toys, had introduced this easy to assemble STEM robotics kit, the MakeBlock mBot. It is undoubtedly one of the best robot kits for kids as they can build a robot from scratch by following the simple step by step instructions and enjoy the firsthand creation. Moreover, it has a simple aluminum extrusion structure, is easy to wire and does not require soldering. Therefore, you can be up and running in no time. This DIY robot kit helps the young minds get a hold of fundamentals of block-based programming, and develop their logical thinking and design skills.
The robot can be controlled by an assigned iOS or Android app to teach the basics of coding and programming to learners. All of these features combined make it the perfect Arduino robot kit for kids. 
This worth-a-buy STEM robotics kit for kids is available HERE.
ELEGOO UNO: Project Super Starter Kit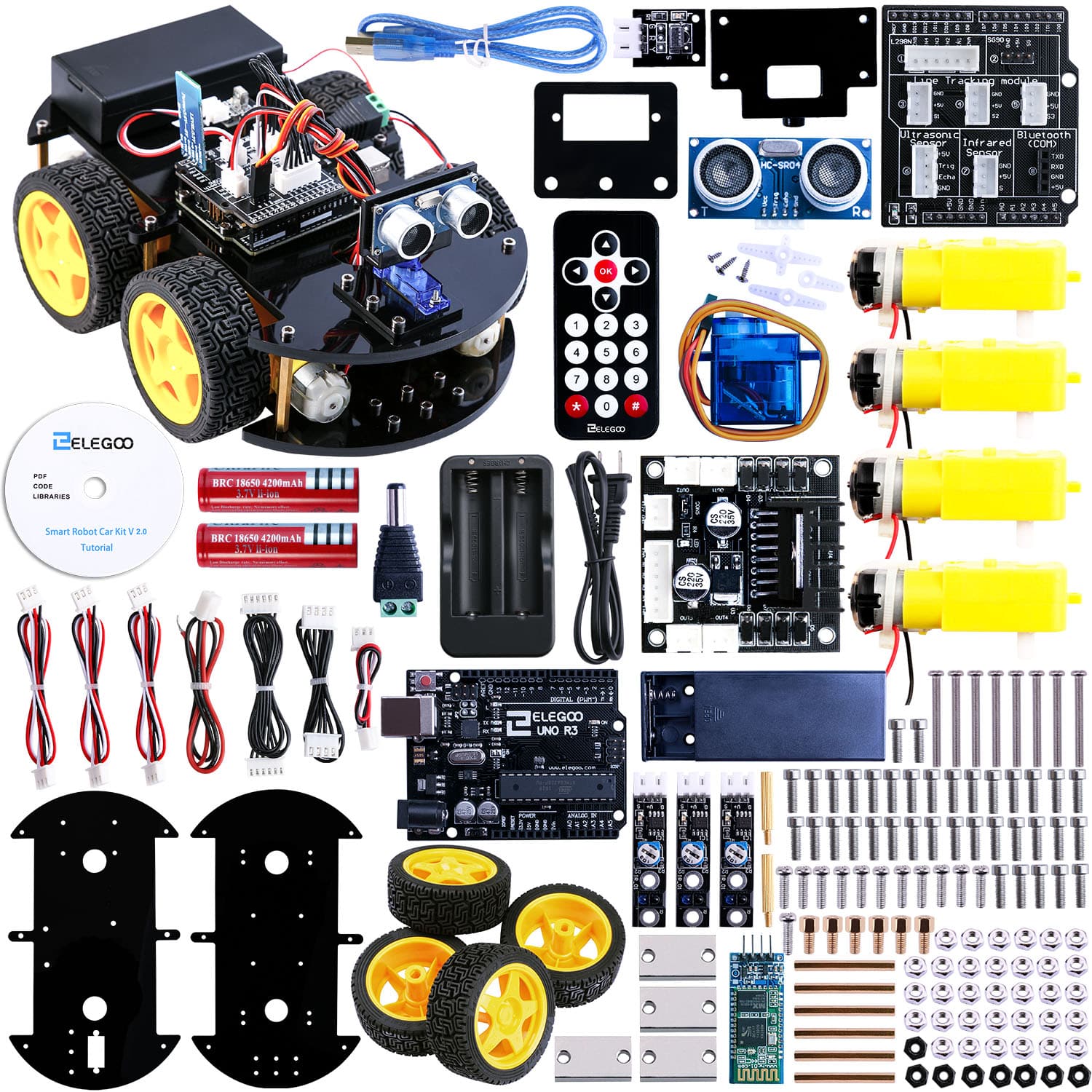 The ELEGOO UNO is one of the best Arduino robot kits available in markets now. This robot kit has made it to the list on the account of its easy assembly of components and reliability. The manual provided helps in assembling the elements and understand the programming concepts with neat diagrams, graphs, and illustrations.
The kit proves to be accessible and affordable for those who are new to Arduino programming and is a great DIY robot kit for kids. The kit comes with just about everything you need to start your Arduino project, including the UNO board, LEDs, resistors, servo, and stepper motors, and a breadboard for easy wiring. Since it is designed as a starter kit, it comes with a tutorial composed of 22 guided lessons and kids will be easily able to get the hang of it. Kids as young as 8-10 years of age can work on this robot kit. Simple and fun, this is a leading robot kit for kids.
You can find this DIY robot kit HERE.
evive Starter Kit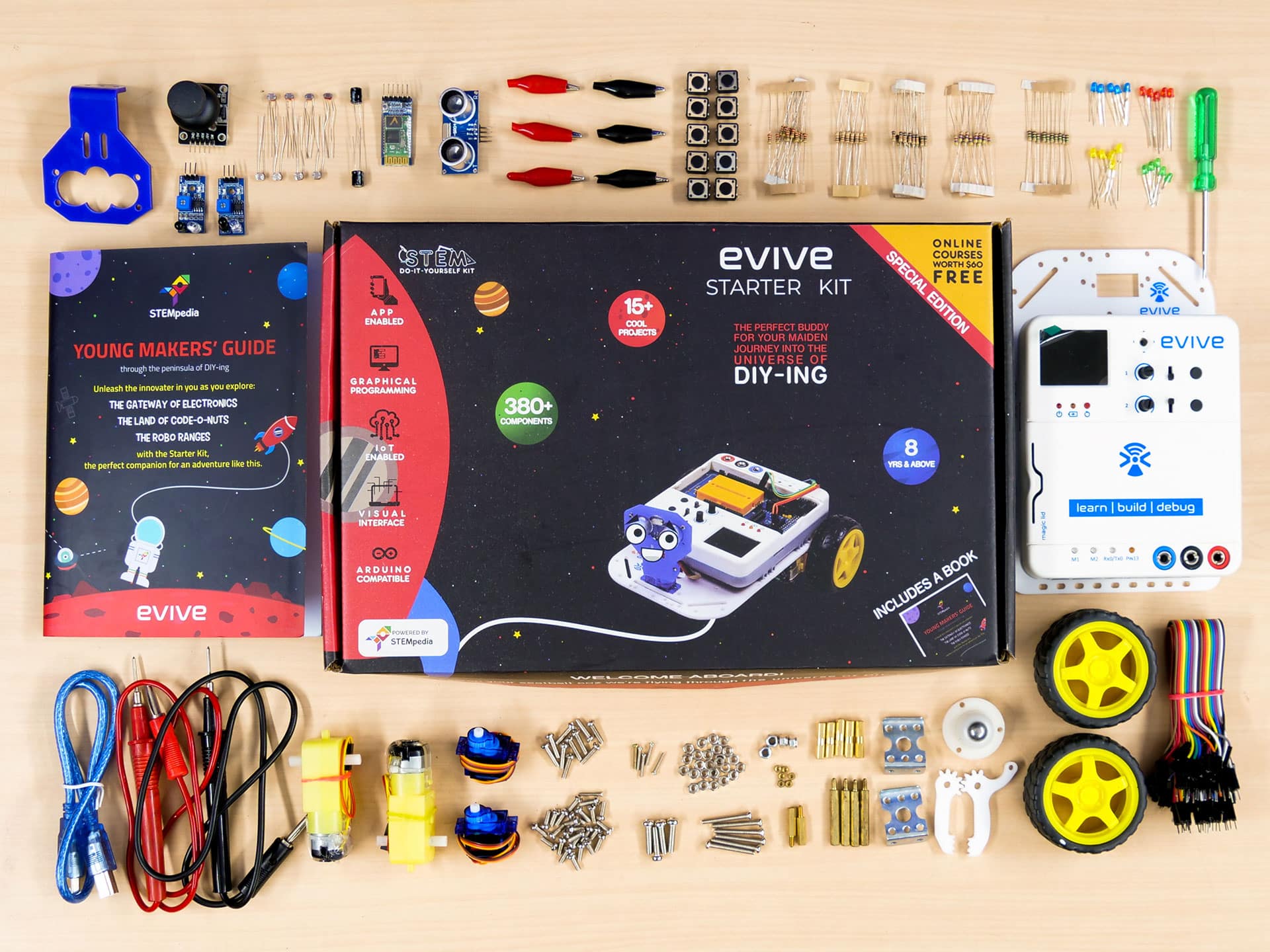 The evive Starter Kit with all its supreme functionalities and components is an excellent DIY robot kit for kids. The kit boasts more components than any of the listed bots and offers many more possibilities. The kit lets kids explore the realm of DIY robotics through learning by experimenting. This edutainment tool at their hands is one of the best Arduino robot kits out there.
The brain of the kit is evive which is an all in one prototyping platform. It allows users to meet all their prototyping needs by giving them an easy plug and play interface. It also allows the user to perform a wide range of activities related to STEM learning and building projects. The user doesn't have to spend time, money, and efforts in dealing with and handling several devices together which, in turn, saves time and reduces complexities in project-making.
Against all other kits in the list, evive lets the user create more than 100 DIY projects and lets them explore the limitless possibilities of creation with several components.
Being one of the best robot kits for kids, it has a comprehensive manual, The Young Makers' Guide, which is an amalgamation of a lot of tutorials and how-to's. The kit not only lets the user create but also teaches them many more concepts of STEM. The kit earns some brownie points for its applications – Dabble and PictoBlox – which can be used to give the projects the technological edge they need. 
You can find this ace STEM robotics kit HERE.
Also read: Classroom Activities: STEM Project Ideas to Make Your Curriculum Engaging
In a Nutshell
STEM is a buzz in the education community and the market is thriving with a huge pool of resources to buy from. One must remember that beginners need to be given the right push with the optimal amount of resources to let them have a long enduring start in the realm of DIY robotics. The Arduino robot kits listed here are the best of what we found and the potential to learn from these kits is the highest. There's strong educational value on both the physical and digital ends of the experience from these STEM robotics kits for beginners.
Feature Image Courtesy – virginia.edu