STEM robotics has seen a tremendous amount of growth in the past decade. It has broken barriers drawn by conventional methods of teaching and brought children full of creativity out of the classrooms with success. It has also helped students improve their cognitive thinking as well as critical thinking skills and launched them into the world with better introspection techniques.
Today, we are going to talk about a vital part of STEM: Robotics. Getting started with robotics is an integral part of electronics studies and programming languages. STEM robotics has made a respectable amount of space for itself in the curriculum, creatively and otherwise. It would only be fair to label it as a new (and better than tiktok) trend for students to want to learn robotics basics these days! 😉
Related: Robotics and STEM Education
Below are some tips for kids to get started with Robotics: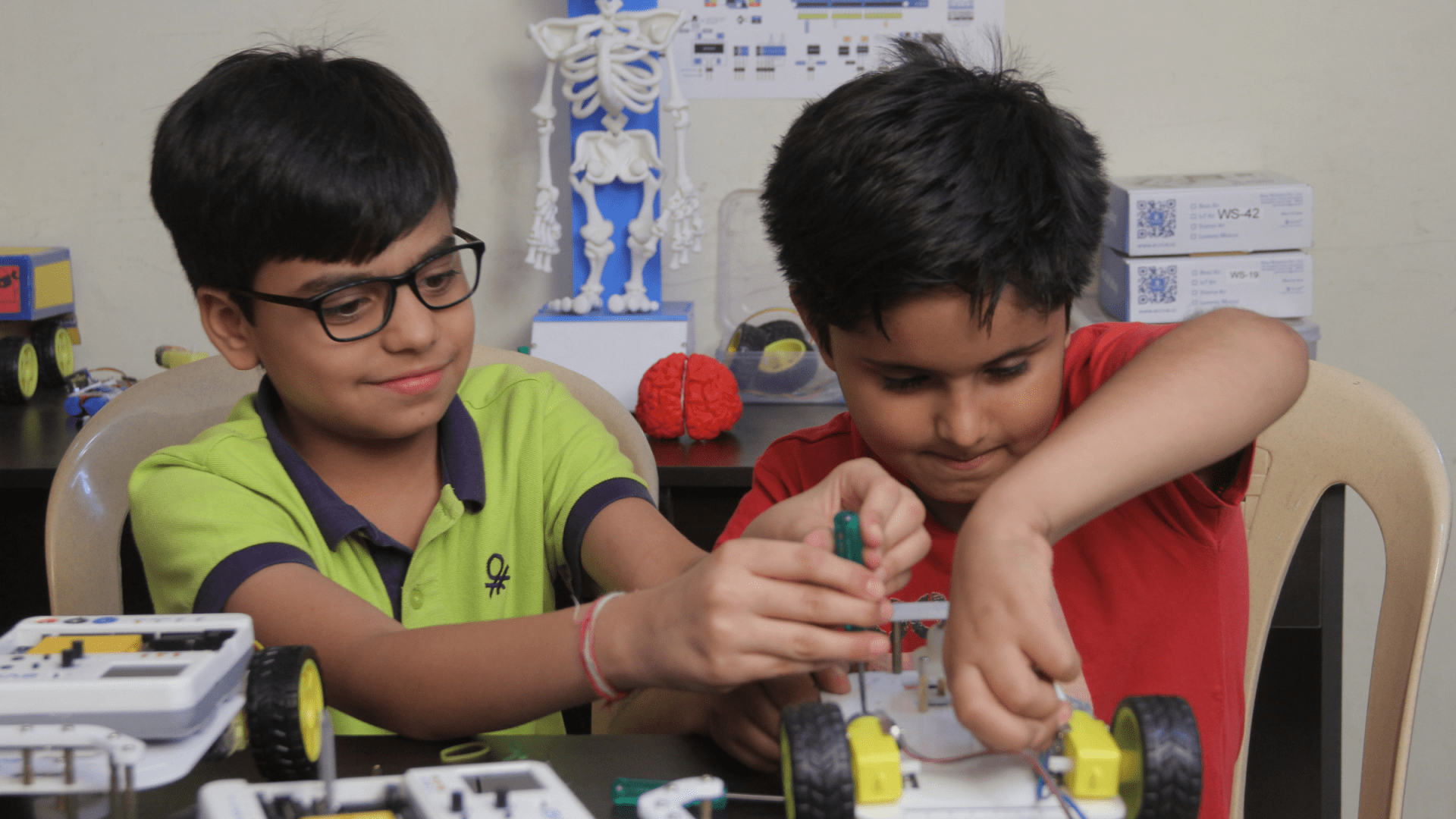 The concept of starting something new gets planted in children's heads from their environment. And it's rarely objective. You will listen to a lot of elders trying to gently force their opinions about a certain thing upon you. But, in this case, we'd advise you to trust your judgment. When it comes to getting started with robotics, we don't want you to not consider that option due to someone else's opinion and then think that it's too late. First of all, nothing can go fatally wrong when you try to learn robotics. And secondly, it is never too late to start learning STEM robotics.
There is always a certain process of learning that has to be followed. The Internet is an endless reservoir of knowledge, but it can also confuse you. Start with the basics. And in the case of STEM robotics, you will find the foundation you're looking for in electronics. Getting Started In Electronics by Forrest Mimms is a great way to start because of the excellent repertoire it has. Other than that, there's always the internet. But as mentioned before, be cautious.
Online Courses Actually Work
If we were to suggest a feasible, convenient and methodical platform to learn robotics basics for beginners, we would turn to online courses. While getting started with robotics, you can learn the basics by signing up for online courses on websites such as STEMpedia, Coursera, MIT OpenCourseWare and Khan Academy which can be perfect to learn robotics basics. To provide you with a partially subtle plug, if you need help getting started in robotics you can sign up at STEMpedia's Learning Center, which is nothing short of a treasury housing a vast number of learning riches. It provides lucid tutorials for all levels from beginner to expert, exciting projects, engaging online courses on electronics, programming, and robotics with more in line based on the latest technologies such as 3D printing, and world-class products.
Every time we learn something new, it is easy to let our minds go wayward with possibilities of great (and sometimes flimsical) opportunities. However, the only way we can reach the level of adeptness that we are looking for is by not skipping any of the crucial steps. It is important that you realize that everything you want to do won't be possible overnight. On your way to learn robotics basics for beginners, we have to keep in mind what we are building the robot for; the bot won't be able to do everything. We have to keep in mind that robots can only do things we program them for. Hence, practicing what we've learned by applying it is better than jumping onto huge milestones at the beginner level of robot building. As our very dear author, John Green rightly states,
The world is not a wish-granting factory.
Reaching out can be in many different forms. Based on what you are more comfortable with, you can either apply for a STEM robotics competition or form a club titled "robotics basics for beginners" or be a part of an online community. In whichever way that suits you, you need to spread out your workspace and learn from others as well. You can definitely learn more while exchanging knowledge and bumping ideas off each other than you can by sitting behind a screen and flipping through research articles.
You can't master everything overnight. In fact, errors are more common than you would like to think when it comes to STEM robotics. Identify your mistakes, accept them, come to terms with the fact that you are a human being and hence, you will make mistakes and then most importantly – learn from your mistakes. Learning robotics basics for beginners is not easy, but it is surely rewarding.
While getting started with robotics, one of the milestones to kick off your list is to get a starter kit. A starter kit will help you learn to program efficiently. You can get started with the evive Starter Kit, the ultimate creator kit for beginners to kickstart their journey into the world of electronics, programming, and STEM robotics while making dozens of DIY projects.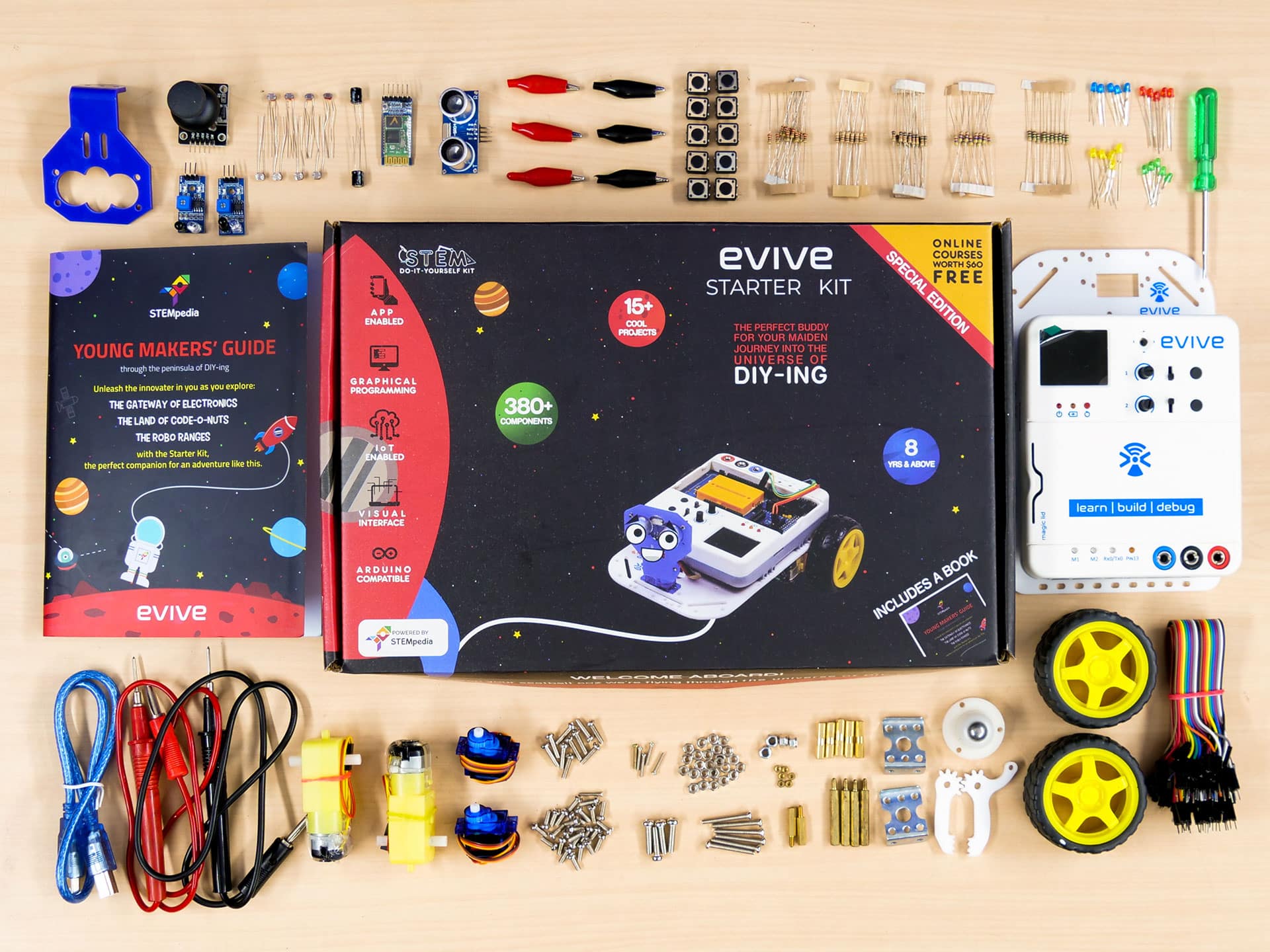 Related: 3 Reasons Why You Should Get the evive Starter Kit
Write down your agendas when you learn robotics basics and make sure you don't miss anything. If you make a habit of keeping track of your progress, you will be able to move ahead while minimizing errors. This works like a charm, especially if you're planning on taking your knowledge and making a career out of it.
Now that you have learned everything you can on your own, you can get a formal education in it without being afraid of getting sucked into a knowledge black hole on your way to learn robotics. You can also enroll in a university course. Getting a degree in STEM robotics will help your case if you want to take it up professionally.
It's very easy to get full of ourselves and mentally win international awards. But you cannot genuinely get forward without helping others. Every robotics basics beginner has a different learning process. Maybe your process resonates with another beginner's process and you end up helping them through the confusing web that is information overload.

In a Nutshell
Getting started with robotics may not seem as interesting as walking, talking, and singing robots do. But if you get into it, STEM robotics can hone up the skills that you never even realized you had. By following these tips you can successfully make your way to learning robotics basics for beginners.