The best robot kit for kids, Quarky, is all set to revolutionize AI & robotics learning. Our previous blog told you all about Quarky, a remarkable STEM robotics kit, and why it is the best robot kit out there. It talked about the exceptional features of the Quarky AI robot toys like Wi-fi and Bluetooth connectivity, smartphone compatibility, short circuit protectivity, and compatibility with different programming platforms. 
To know more about this STEM robotics kit, check out our previous blog here: Quarky: The Best Educational AI Robot Kit for Kids 
Here's the big thing! STEMpedia has expanded its premium portfolio with the global launch of Quarky on 17th August. Pre-book early and avail discounts up to 50% on Quarky robot DIY kits. Potential backers can earn great rewards and unlock exclusive and versatile AI learning courses for free.
The Kickstarter Campaign
The Quarky Kickstarter Campaign officially began on 17th August 2021 and ends on 18th September 2021. The campaign received 100% funding in just 30 minutes after the launch and funds have since been multiplying exponentially around the clock.

What's In it For You
The Quarky Kickstarter campaign promises you special Kickstarter rewards for a certain range of pledge values. Along with rewards it also gives exciting perks and discounts like Super Early Bird and KS Special Perk. So, pledge for our Kickstarter campaign at the earliest to avail of the early bird discount for up to 50%. Hurry up before all the slots get occupied!  
Kickstarter Rewards and Perks
There are two Quarky robot kits for kids available namely Quarky Innovator Kit and Quarky Ultimate Kit.
The Quarky Innovator Kit includes the Quarky board and additional project building components using which kids can build numerous real-world application-based projects making their learning experience more engaging. The package also includes interactive and self-paced AI-learning online courses like Learn AI with Quarky and Robotics and AI Level 1. With 30+ projects and two robot variations, the Quarky Innovator Kit provides hands-on experience in AI and robotics learning and makes it more joyful.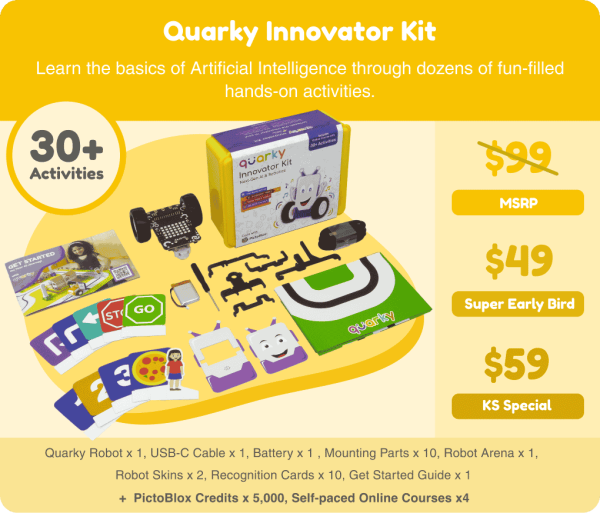 The Quarky Ultimate Kit includes the Quarky board and advanced project building units. The DIY robot kit also consists of interesting and properly structured AI and robotics learning online courses comparatively more advanced than the Innovator kit, like Robotics and AI Level 2 and many more. With 50+ application-based activities and 10+ robot variations, the Quarky Ultimate Kit takes AI learning to the next level.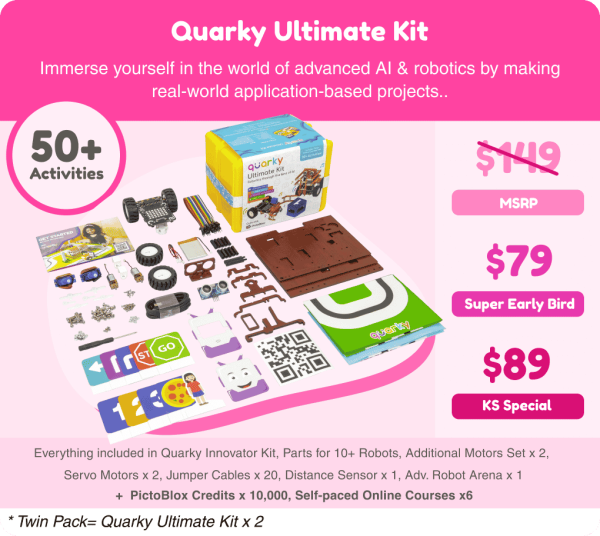 For Educators
Apart from being a precise learning companion for kids, Quarky is also a wonderful teaching companion for teachers and AI & robotics educators making AI-teaching more easy and interesting. Being affordable the kits can be made easily available to every single student in the classroom. Also, your skills can be enhanced to add to your AI-teaching career.
There are two classroom bundles available namely Quarky Mini Classroom Bundle and Quarky Classroom Bundle. 
Quarky Mini Classroom Bundle
The Quarky Mini Classroom Bundle consists of six Quarky Ultimate Kits along with activity-associated consumables, online courses, and many more interesting functional units.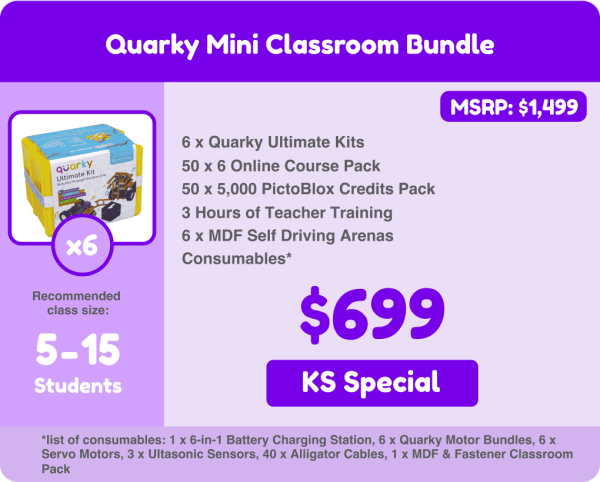 The Quarky Classroom Bundle includes 12 Quarky Ultimate Kits along with activity-associated usable units, interactive online courses, meant for educating a higher number of students. So, every student gets a chance to have their hands on the kit and learn AI in a more efficient and engaging manner.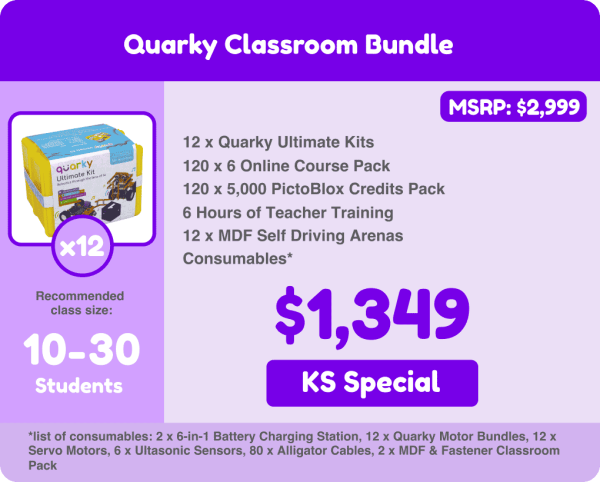 Artificial Intelligence Lab
STEMpedia offers a complete AI and robotics lab setup kit, the Artificial Intelligence Lab, to make your AI-teaching more realistic and interesting for your students. Using this kit you can structure a classroom that would consist of AI-based activities, robots, digital learning courses, giving students a unique and interactive learning environment. 
The Artificial Intelligence Lab consists of 18 Quarky Ultimate Kits, arenas for activity, and many more exciting contents. 
Add-on Kits
Besides these robot kits, STEMpedia also offers an exciting range of add-on kits for Quarky. They add more value to the AI and robotics learning journey by providing different avatars like Mars Rover (miniature robotic toy version of Perseverance rover of NASA) along with opportunities to learn exciting tech concepts such as bipedal robotics and programming, taking your AI learning to a whole new level. Spice up your little one's 21st-century technological skills with add-on kits for Quarky making their learning journey more colorful and joyous.
The add-on kits for Quarky are:
Mars Rover Add-on Kit

This kit goes in addition to either of the above kits allowing kids to learn AI & robotics more realistically by building their own miniature toy version of the Perseverance rover sent by NASA to Mars.



Humanoid Add-on Kit

This add-on kit in combination with Quarky kits makes learning advanced robotics concepts more application-based. It allows users to build a human-like robot that can perform activities like moving, dancing, and other simple tasks that a human being performs.


Creatives Add-on Kit

This kit allows users to unleash their creativity. It consists of creative paper-based robot assemblies like a robot dog, a samurai, etc. These multifarious avatars make AI-learning more engaging and interesting for everyone.
   
For more information regarding Rewards and Perks, please visit our Quarky Kickstarter Campaign.
Quarky gives a complete hands-on experience in AI and robotics which helps to create a balance between theoretical knowledge and practical skills. It stands out to be an efficient learning companion for 7-14 years old tinkerers because it makes understanding industry-standard AI and robotics like speech recognition, self-driven cars, etc easy and playful.
Super Fun Learning with Quarky Robot DIY kit
Enriching one's practical skills requires precise training and if guided by experts it could bear even better fruits. STEMpedia assures that your child receives the best AI and robotics learning experience with its online courses that are packed with hands-on learning and easy-to-follow lessons and activities. Interactive videos, instructive visuals, and intriguing learning methods make our AI and robotics learning courses the right fit for children aged 7 to 14 years. Each course includes a capstone project that accords them a chance to practice the acquired knowledge in the real world.
Quarky AI Robot at your Doorstep!
Once the Kickstarter campaign concludes on 18th September 2021, we'll commence shipping the Quarky robot DIY kits for early bird backers in October 2021 and our other backers in November 2021. With a dedicated and determined distribution and logistics team working diligently, we will ensure that you receive Quarky as soon as possible. 
NOTE: Shipping to be charged separately.
How to Pledge
Interested individuals can pledge for our Kickstarter campaign by following the steps mentioned below: 
 Visit

the Quarky Campaign

page on Kickstarter's official website.  

 Click the green

Back this project

button.

 Select either the reward or no reward option according to your preference.

 Click the green

Continue

/

Pledge $XX

button.

 Log in/Sign up with your email ID and password.

 Enter your card details.

 Click the green

Pledge

button.

 
In a Nutshell
Artificial Intelligence is a rocket ship blasting off and sooner or later will be the most versatile career discipline. Quarky is the perfect companion for your children to accompany them on their AI-learning journey which could add more thrill and excitement to their learning process. Being environment and budget-friendly, Quarky specifies to be the safest, precise, and easy-to-use STEM robotics kit for children of 7 to 14 years of age.
Quarky is the stepping stone that could lead your child to become an unrivalled tech expert of the AI-driven future. Providing them hands-on experience on robotics at a young age could make them the next-gen Tony Stark at adolescence and who knows if they come up with self-built Jarvis someday.
So, make a move and pre-book Quarky today to bring home the Quarky robot DIY kit – your child's best AI learning mate.