Mini AI & Robotics Classroom Pack -
Equipment List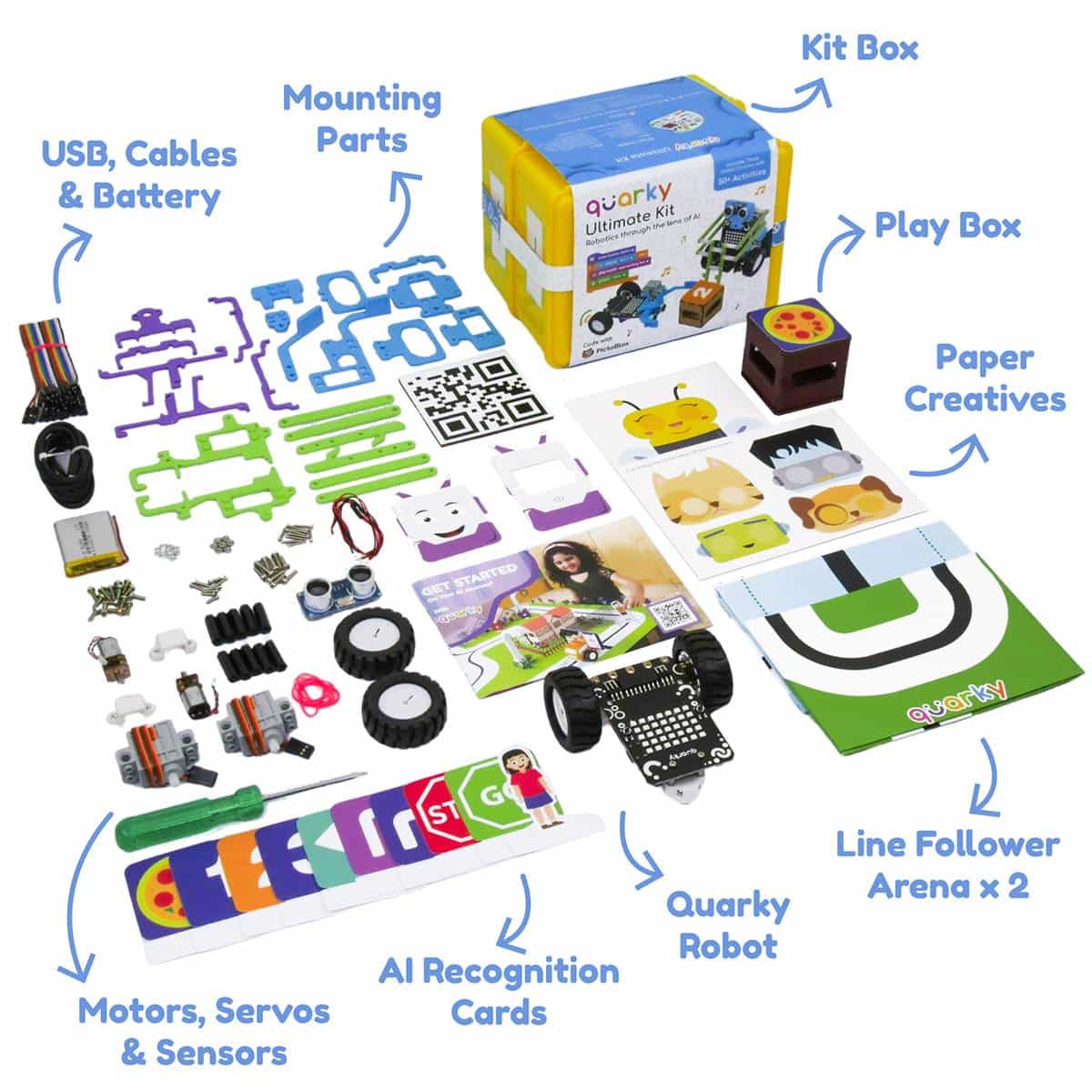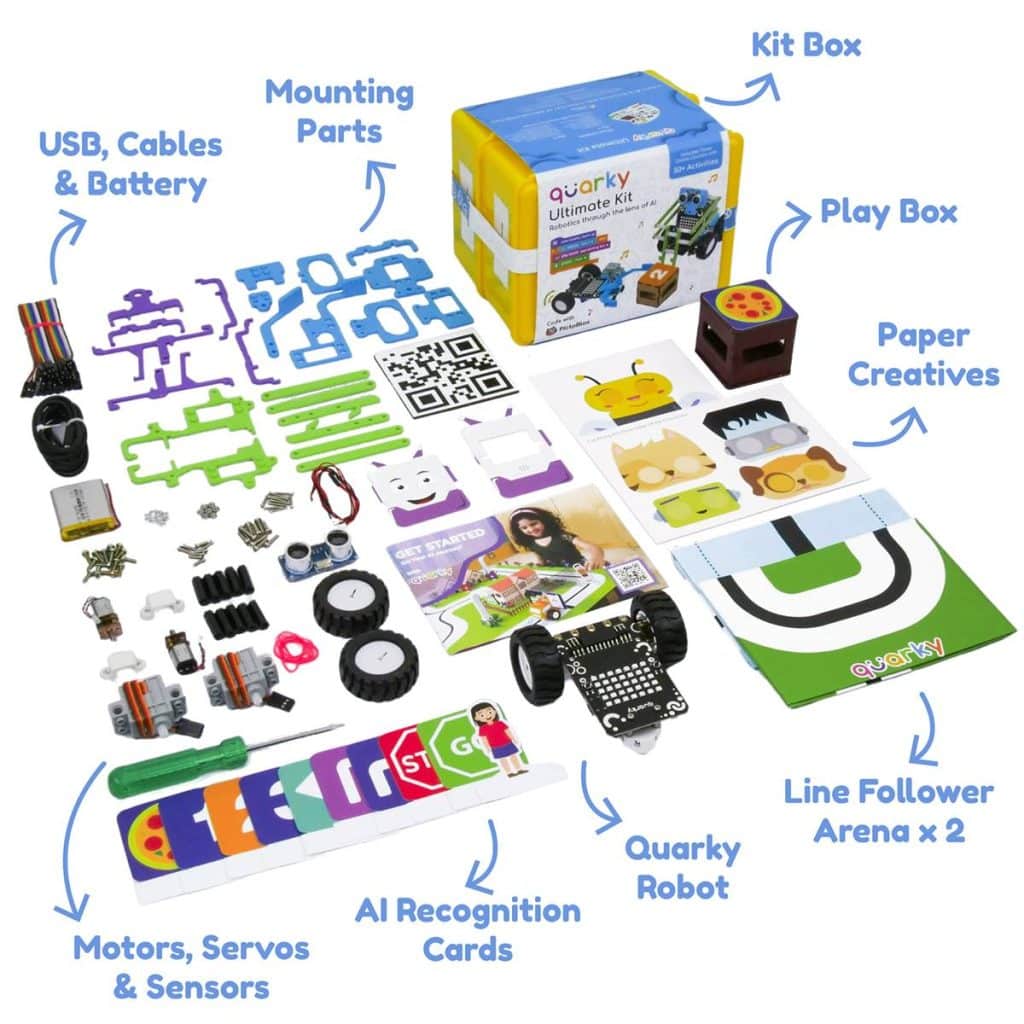 The BEST AI & Robotics Companion for Kids with complete hands-on experience to learn AI, Robotics & Coding with 10+ robotics configurations and 50+ projects.
Designed for Classroom Learning – 1 kit is suitable for 2-3 student group.
Powerful Microcontroller Board – Quarky is a portable device that allows students to create complex projects with its 3.7V Li–ion battery support, two tactile switches, five capacitive touch sensors, two infrared sensors, 35 programmable RGB LEDs, speaker, Wi–Fi and Bluetooth compatibility and general–purpose input–output pins. Quarky also has protections for reverse polarity, overvoltage, and overcurrent.
Comes with AI recognition cards for making Self Driving Car and 2 Practice Arenas.
Classroom Pack Consumables
The classroom pack contains all the spares and consumables needed to run robotics activities for up to 100 students, making running activities easier and more efficient than ever before.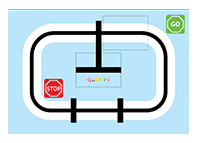 6 x AI & Robotics Wooden Arena​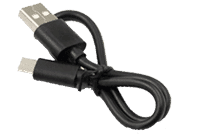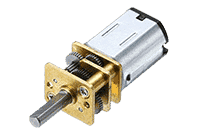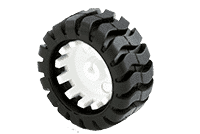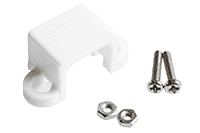 6 x Motor Mount 1 x Fastener set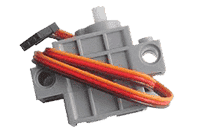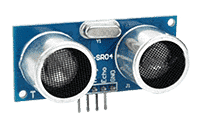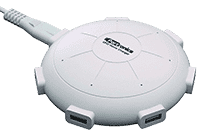 1 x Battery Charger (6-Port)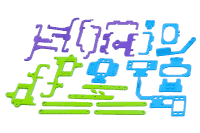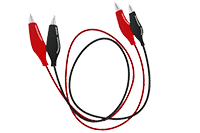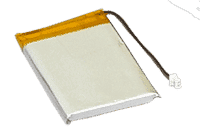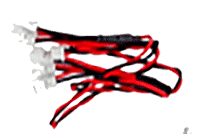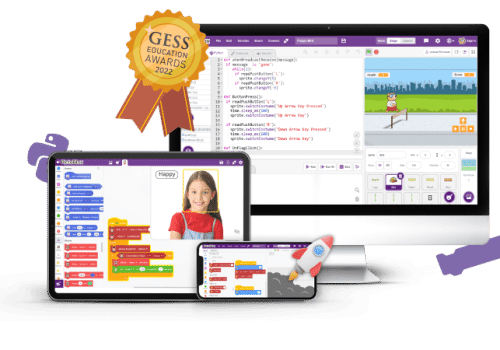 PictoBlox Software License
All students and teachers get access to PictoBlox software which is a Block and Python programming software where students can program the robots and learn new things. PictoBlox helps the student to learn the following:
Block Coding – Appropriate for classes 3-8
Python Coding – Appropriate for classes 7-12
Machine Learning and Artificial Intelligence
Robotics, Internet of Things, Physical Computing and Self Driving Technology
Join the Schools Who Trust Us for an Unparalleled Educational Experience!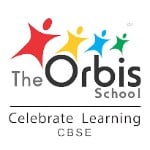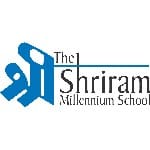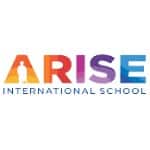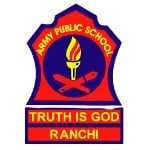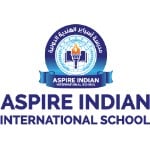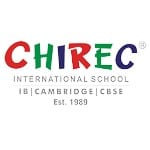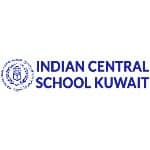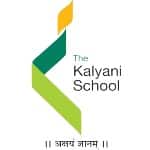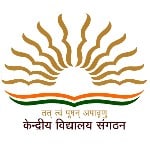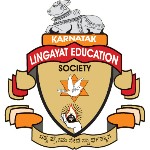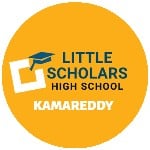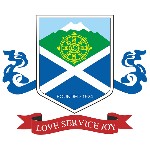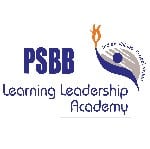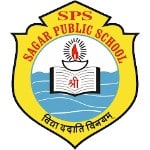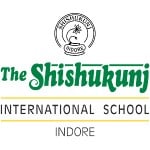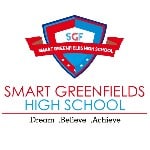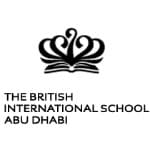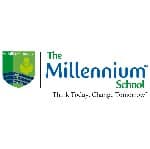 FAQs on
Mini AI Classroom Pack