On 27th February 2020, the AIM AI module (ATL AI-Base module) was released in collaboration with NASSCOM and Niti Aayog, with an aim to empower young minds of the country in the field of AI. It contains activities, demo models, videos, introduction to scratch and python for programming and other experiments that enable students to learn the various concepts of AI.
The Step-up AIM AI module is the next chapter in promoting AI to young minds for the fascinatingly upcoming and ever-evolving world of digital and artificial intelligence era. It is going to take this curriculum to the next level by enhancing and expanding on the "how-tos" of building and using Artificial Intelligence.
The AI modules have been released to over 5,000 Atal Tinkering Labs (ATL) with a hope to bring AI to schools; STEMpedia and Niti Ayog have joined forces to empower 2.5 million students with essential 21st-century skills by supplying all the necessary resources to Atal Tinkering Labs across India to efficiently implement the AIM Step-up AI Module.
Also read: AI in Education: Scope of Artificial Intelligence in India
The Step-up AIM AI Module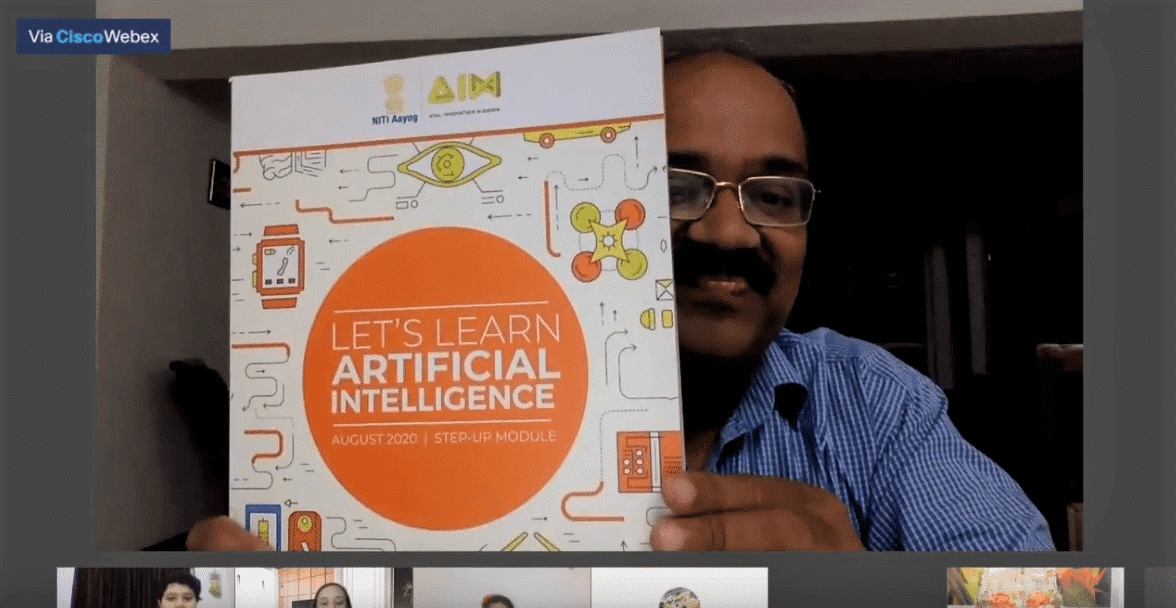 The ATL AI Step-Up module from AIM seeks to take it further in the journey to learn how to use and build Artificial Intelligence.
The following are the major modules covered in the ATL AI Step-Up module:-
Reconnecting with Artificial Intelligence: Recap of the previous "base AI module". It also includes a project called Air Draw.
Ethics in AI: Discuss the moral compass and how to realise that into AI. It covers Fairness, Robustness, Explainability, Privacy, Governance and what contributes to "Ethical AI".
Machine Learning: Explains how machine learning forms a core for the development of AI. Teaches how to program a machine to gather data, training and evaluating it, neural networks and deep learning and prediction.
Natural Language Processing (NLP): The linguistic part of AI. How NLP works, its applications and its use cases.
Computer Vision: How a computer uses a camera to see and understand its surroundings. Includes optical character recognition and face recognition and related projects.
Databases and SQL: Using databases to store and organise data and managing data using a Structured Query Language (SQL).
Python: Introduction to python programming and IDEs (Integrated Development Environment). Learning to develop and deploy applications using Heroku hosting site.
Algorithms: Introduction to machine learning algorithms. Algorithms used in supervised learning, unsupervised learning, and reinforcement learning.
The whole step-up AIM AI module walks us through each element in the development of AI and machine learning and then utilises all things learnt to develop projects. This allows one to learn and apply the learnings immediately after which is basically, learning by doing.
Alongside the module, an ATL AI Step-up Projects Booklet was also released which has flavourful exercises that complement the main theoretical serving of the AI Step-up Module. The activity-based approach helps the students hone their skills across various aspects of AI technology. This project booklet can be downloaded from here.
"I'm really delighted that we're launching the AI Step-Up module of let's learn AI because AI is the future…India is so data-rich. If we can start using this data and algorithms at a young age, we will find that AI is One of the easiest things to do at a very young age. It is the future."

–Shri Amitabh Kant, CEO, NITI Aayog
Step-up AIM AI Module and STEMpedia's PictoBlox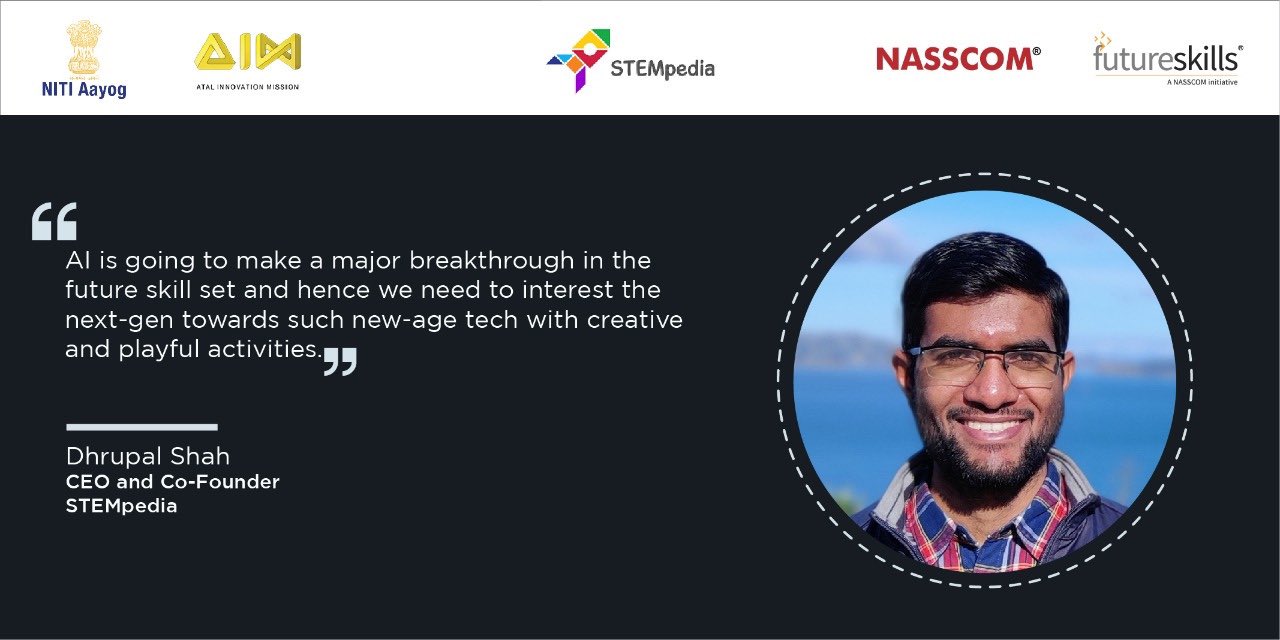 We at STEMpedia – a STEM (Science, Technology, Engineering and Mathematics) education company- have always promoted learning by doing, making children active learners, helping them understand the latest tech to be at par with the developments of the world, and developing crucial 21st-century skills. In our collaboration with Niti Aayog to develop the AI Step-up module by providing support and resources to learn and implement it, our indigenous AI education platform, PictoBlox, will be used to learn and develop applications from.
PictoBlox precisely enables the crucial development of 21st-century skills like creativity and imagination, critical thinking and problem-solving. Let's see what STEMpedia's PictoBlox has to offer.
PictoBlox: The Best Graphical Coding Platform for AI in Education
PictoBlox AI is India's first interactive AI education platform (based on MIT's Scratch 3.0) that provides a fulfilling project-based learning experience through its artificial intelligence and machine learning tools integrated into a graphical programming interface. The current version of PictoBlox, 3.3.0, comes with AI features and machine learning tools that enable users to develop related projects in a fun learning-by-doing approach. PictoBlox is available on Windows, macOS and Linux for desktop and on Android for mobile devices; iOS support will be coming out soon.
The AI functions are in the form of precoded code blocks, and all that needs to be done to drag and drop them to write a script for the application, which disables the need to learn and memorise syntax. These codes will be used for software applications as well as hardware applications like robots. PictoBlox is compatible with many popular project-making boards like evive – an all-in-one electronic prototyping platform with a plug-and-play interface, Arduino Uno, Arduino Mega, Arduino Nano and ESP32.
PictoBlox's AI extensions provide the perfect means to implement the AIM AI Module in a fun and interactive manner. Let's look at what the extension features:
Computer Vision: This feature allows the use of cameras to analyse an image for various features like a celebrity, brand, objects, landmarks, image tags, and image description.

Face Detection: This feature enables the machine to analyse images for faces. If a face is present in the image, it can get the age, gender, emotion, and head gesture for every face detected in the picture.

Optical Character Recognition: This feature allows the detection of text in an image.

Speech Recognition: These features enable you to convert speech into text or vice versa. They can make real-world applications like mini Alexa, Siri, and Google Assistant.
Natural Language Processing: These features enable you to make text-based classifiers and sentiment analysis.
The ML models of the extension are as follows:
Image-Based Machine Learning Models: Students can train their models to detect, recognise, and classify various images. It can be as simple as hand gestures for Rock-Paper-Scissors or complex images like X-rays.

Pose-Based Machine Learning Models: Enables students to train their models to detect, recognize, and classify various human body postures.

Apart from the AI and ML specific features, PictoBlox has a neural network feature wherein kids can train the machines to identify the relationship between input and output data, which can be used for making predictions and will thus give rise to an intelligent machine.
The best part about PictoBlox is its beginner-friendly nature. A student can begin to code without any prior knowledge about coding due to its graphical programming nature. Teachers find it very easy to guide the students in navigating through the user interface and using PictoBlox's functions. Images are easier to consume for children and thus, PictoBlox uses a variety of recognisable icons in the interface which removes the need to remember syntax and only focus on the concepts and methodologies of building applications.
Also read: PictoBlox AI: Artificial Intelligence (AI) and Machine Learning for Kids
In a Nutshell
"The scope of robotics today is similar to what computer science had in the 1980s and 1990s," says Balaji Viswanathan, co-founder and CEO of Invento Robotics.
According to a draft discussion paper by NITI Aayog, artificial intelligence is expected to boost India's annual growth rate by 1.3% by 2035 and the global AI market is likely to be in the range of $15-15.5 trillion, out of which India's share will be close to $1 trillion.
Thus, arises the need for AIM to develop the AI modules and for us to jump on the bandwagon right from today so our next generation of entrepreneurs and innovators will be well educated on the Artificial Intelligence status quo and become change makers for the society.
"The AI Step-module is one of a kind resource material for students to learn AI…It is an imperative step to empower young people of the country…with the latest technology."

–Shri Amitabh Kant, CEO, NITI Aayog
The features in PictoBlox AI enable kids to learn AI and machine learning hands-on with real-world applications. They can perform fascinating activities such as identifying celebrities in an image, making a face detector, recognising handwritten and printed text, and engagingly building machine learning models.