Did you know that the car that your dad drives has been assembled and painted by a robot? Or that the bottles of Pepsi you bought for your housewarming party has also been packaged by a robot Yes! Robots have become quite popular in today's world. Not only are they fascinating and one of the favorite movie material of filmmakers but have also become extremely useful to the point of being indispensable in certain domains such as automobile manufacturing and space exploration – who can ever forget Opportunity and Curiosity? Looking at how it impacts our daily lives and the functioning of the world, robotics is now considered a General Purpose Technology; it has the potential to notably influence the progress of the world both economically and socially. Therefore, it becomes all the more important to introduce children to robotics and consider its possible benefits in making them technologically sound for the future. In this article, we're listing down some simple robotics projects for kids to introduce them to robotics with a hands-on approach.
Robotics Projects for Beginners
Apart from the obvious benefits, it has been found out that incorporating robotics in the classroom is perhaps the best way to introduce students to STEM subjects and encourage them to pursue the same. The key here is to start small and encourage them to learn by doing. That is why we have compiled a list of 5 exciting robotics projects for beginners that kids can try in schools and even their homes:
Soccer Playing Robot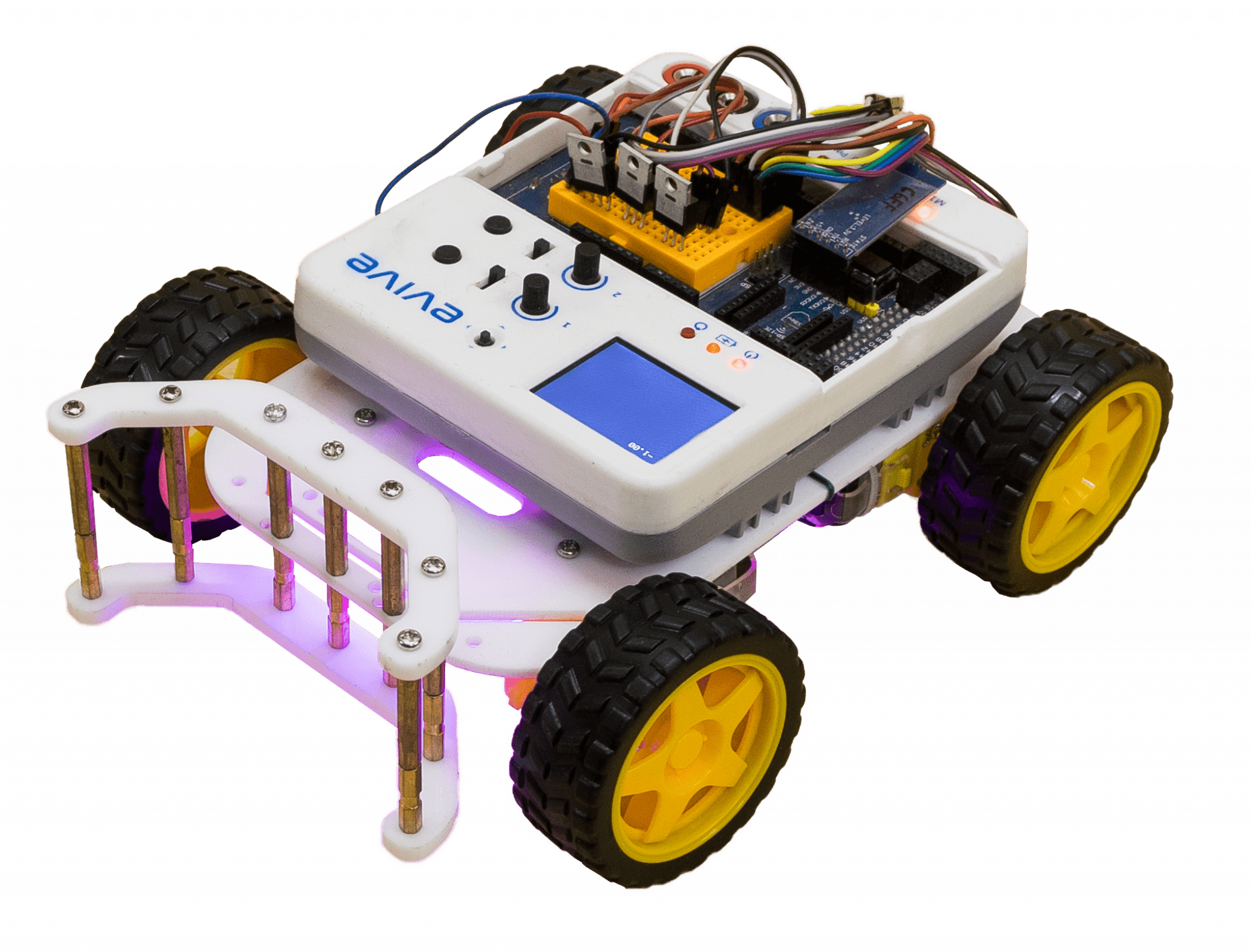 Difficulty Level: Beginner
Playing soccer is fun, but playing soccer with robots is awesome! The soccer playing robot is one of the most popular robotics projects among children and is also pretty simple to make! Gather your friends, team up, and make your own Smartphone-controlled soccer robots to challenge each other to an exciting game of robot soccer! With programming based in PictoBlox, a kid-friendly, graphical programming software, the DIY soccer playing robot is one of the easiest and most exciting robotics projects for kids out there.
You can find this simple robotics project high school students HERE.
Line Following Robot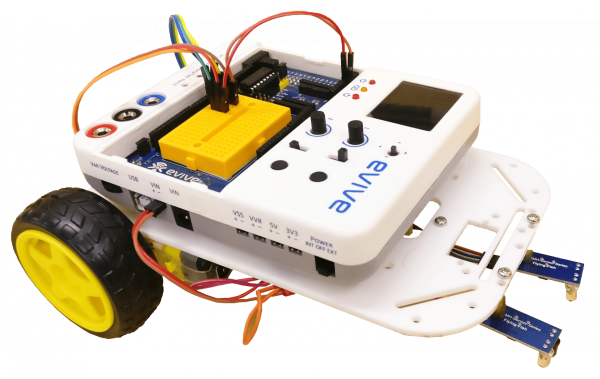 Difficulty Level: Intermediate
It may not know who you are. But it will look for you and it will find you. And nothing that comes in its way will be spared by it. It is none other than the determined and precise line following robot!
The line following robot is yet another popular robotics projects for kids. Children get to learn the concept of sensors and autonomous robots by making this robotics project. The program for controlling this robot is written in Arduino IDE, a programming software based on Java, C, and C++.
You can find this robotics project for beginners HERE.
Bonus: Instead of using IR sensors, you can use your Smartphone to make a line following robot. How? By using Dabble, an ingenious Smartphone app that transforms a Smartphone into a virtual I/O device and lets you control and communicate with via Bluetooth, access inbuilt sensors like the GPS, camera, and mic, and exploit other features to make your projects versatile. Visit HERE to make the Smartphone-controlled line following robot.
Pick and Place Robot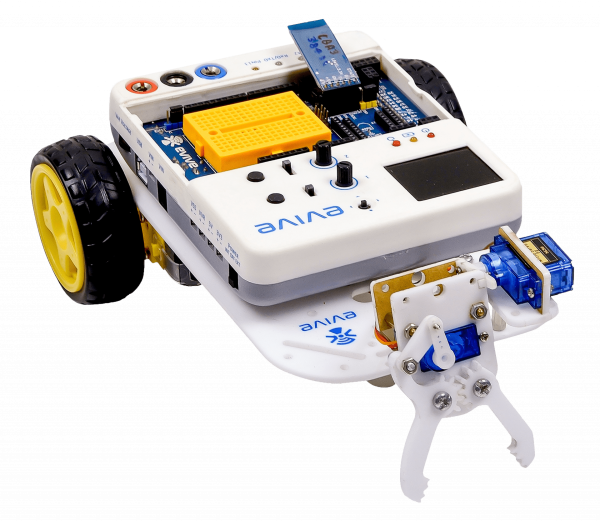 Difficulty Level: Intermediate
You've been working on a project for the biggest science fair at school for 18 hours straight and are now super tired. Only a cup of espresso can boost your energy. But you can't leave work! Who could you possibly rely on for help at this hour?
The pick and place robot, who else! This fun and easy-to-build robotics DIY project is perfect for the task. With PictoBlox as the programming software, writing its code is going to be a piece of cake. So, what are you waiting for? Ready, set, DIY!
You can find this simple robot project for school students HERE.
Smart Cleaning Robot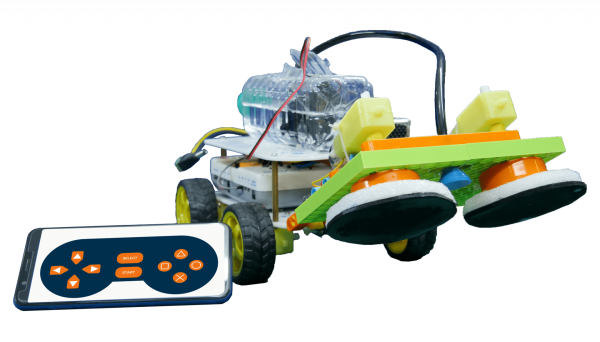 Difficulty Level: Intermediate
This robotics project is for those who want their room to be as shiny as a mirror's back. But that can be quite a task! Not anymore, fellas, not anymore! With this easy to build smart cleaning robot, you can now easily clean the floor and the walls of your entire house with a few clicks of the button on your Smartphone, courtesy Dabble and PictoBlox. Sit down, grab the cup of coffee your pick and place robot brought you, and clean away!
You can find this robotics project for beginners HERE.
Gesture Control Robot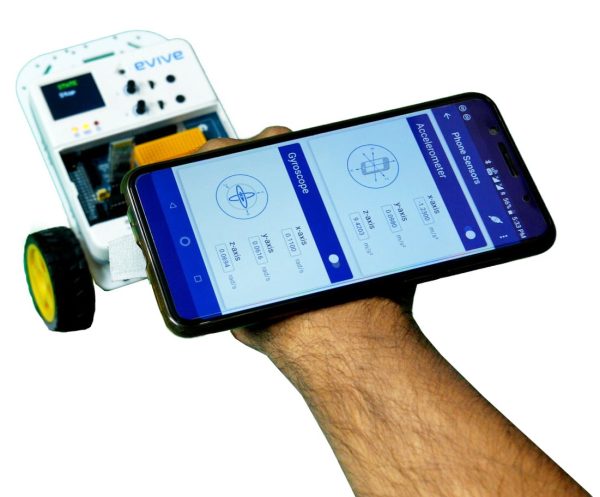 Difficulty Level: Intermediate
Till now you came across robotics projects which used virtual controllers in Smartphones; however, both of these required the use of two hands. But this time let's take it to another level; this time, you'll our robots using a Smartphone with the help of hand gestures. Turn your hand forward and the robot moves forward; turn it back and the robot moves back! And this has been made possible with the help of none other than your friendly neighborhood graphical programming software, PictoBlox, and the genius mobile application, Dabble.
You can find this simple robotics project for kids HERE.
Obstacle Avoiding Robot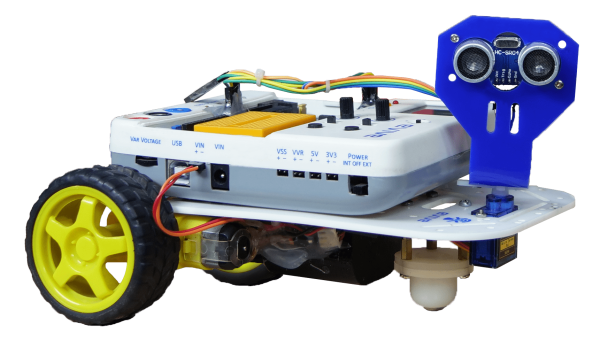 Difficulty Level: Intermediate
This robotics project involves making yet another autonomous robot. But unlike the line following robot that follows something, this robot will make its way through by avoiding obstacles that come in its path. Children get to learn its working along with making this robotics project.
You can find this simple robot project for school students HERE.

In a Nutshell
Robotics has become quite popular today and is one of the most interesting fields out there with a great deal of potential. And since a major chunk of our life depends on robotics, be it directly or indirectly, it is necessary for today's youth to be aware of the field and understands its basics if it is to become tomorrow's leaders and innovators. The robotics projects mentioned here are the jumpstart that kids need to develop an interest in robotics to go deep into the field.