The field of information and technology has been working on getting things done with a single touch for as long as we can remember. This current decade marks the peak of evolution in the sector of IT with its miraculous developments. Out of these, the concept of "Internet of Things – IoT" which is now a part and parcel of our lives, has worked wonders in the sphere of education as in many others. IoT in education has made it possible for learners to access information, interact, and develop skills in unimaginable ways. If used appropriately, in all its prospects, the Internet of Things in education can immensely improve the quality and speed of learning. Let's see how IoT applications in education function to give students the ultimate learning experience.
Also read: Digital Learning: Why E-Learning Websites Are a Boon for Kids Today
The Very Beginning
The title "Internet of Things" started life in 1999, in a presentation made by a British Technology pioneer Kevin Ashton for Procter & Gamble (P&G). According to him, even after twenty years, the title is often misunderstood. Let us try to understand the gist of it in his own words to get a better cognizance of IoT in education. "Today computers – and, therefore, the internet – are almost wholly dependent upon human beings for information. The problem is, people have limited time, attention, and accuracy – all of which means that they are not very good at capturing data about things in the real world. We need to empower computers with their own means of gathering information, so they can see, hear, and smell the world for themselves, in all its random glory."
This might sound scary, but believe it or not, it's just as useful. A lot of devices apart from the obvious gadgets have been digitized today. From dishwashers to lights and fans, everything works with a remote (one touch, remember?). The education sector, too, has jumped on the bandwagon. The traditional way of learning was surely effective in its era, but now is the time we inculcate modern technology in the system and let the Internet of Things in education take the baton to make it more efficient and less time-consuming. In this article, we will take a look at how the Internet of Things (IoT) has helped revolutionize the education sector.
Global Communication

Image: rawpixel.com


With the introduction of IoT in education, it doesn't have to be limited to a particular geographical area anymore. In an IoT school, students from any corner of the world can interact with different cultures that lie beyond the physical boundaries of their countries. This helps broaden the horizons of children's minds and having open minds in turn, will help build a better and more harmonized community for tomorrow.

With the Internet of Things in education, we can also help students who live in rural areas connect with schools and take classes using video lessons, live chats, and conferences. Learning is a constant process that should not be limited to classrooms or particular timings. IoT indeed sets a smooth sail for the curious minds.

Interactive Learning

Also known as "enhancement of textbooks", this benefit of IoT in education helps students understand the theoretical aspects with increased clarity. QR Codes are not a new concept in today's world. They're used everywhere – so much so that even textbooks have QR codes on them, a denotative of IoT applications in education. These codes lead to websites or educational applications that help teach the subjects using audios, videos, and graphic illustrations. With the help of e-books, students can enjoy additional features that physical books fail to provide – i.e. read aloud, add notes, draw, search, and most importantly, share. It becomes easy for the educators as well to communicate with the students, check their homework, and keep tabs on their progress.

Digitization of Repetitive Tasks

India's population consists of more than 50% of youth. According to Census 2011, India's student population is a gigantic 315 million, and handling so many heads can surely be a difficult task. IoT swoops in to help here as well. With the help of the Internet of Things in education, you can digitize the daily routine tasks i.e. taking attendance, logging in the test results, etc. IoT can collect this data automatically and minimize the need for manual labor, hence increasing the efficiency and decreasing the time wasted on minimal tasks. Since digitization eliminates the need for manual labor, physical boundaries that affected the education system before are ineffective. Distance, time, location can no longer poke nose in the way of learning with the various IoT applications in education.
Tools and How to Use Them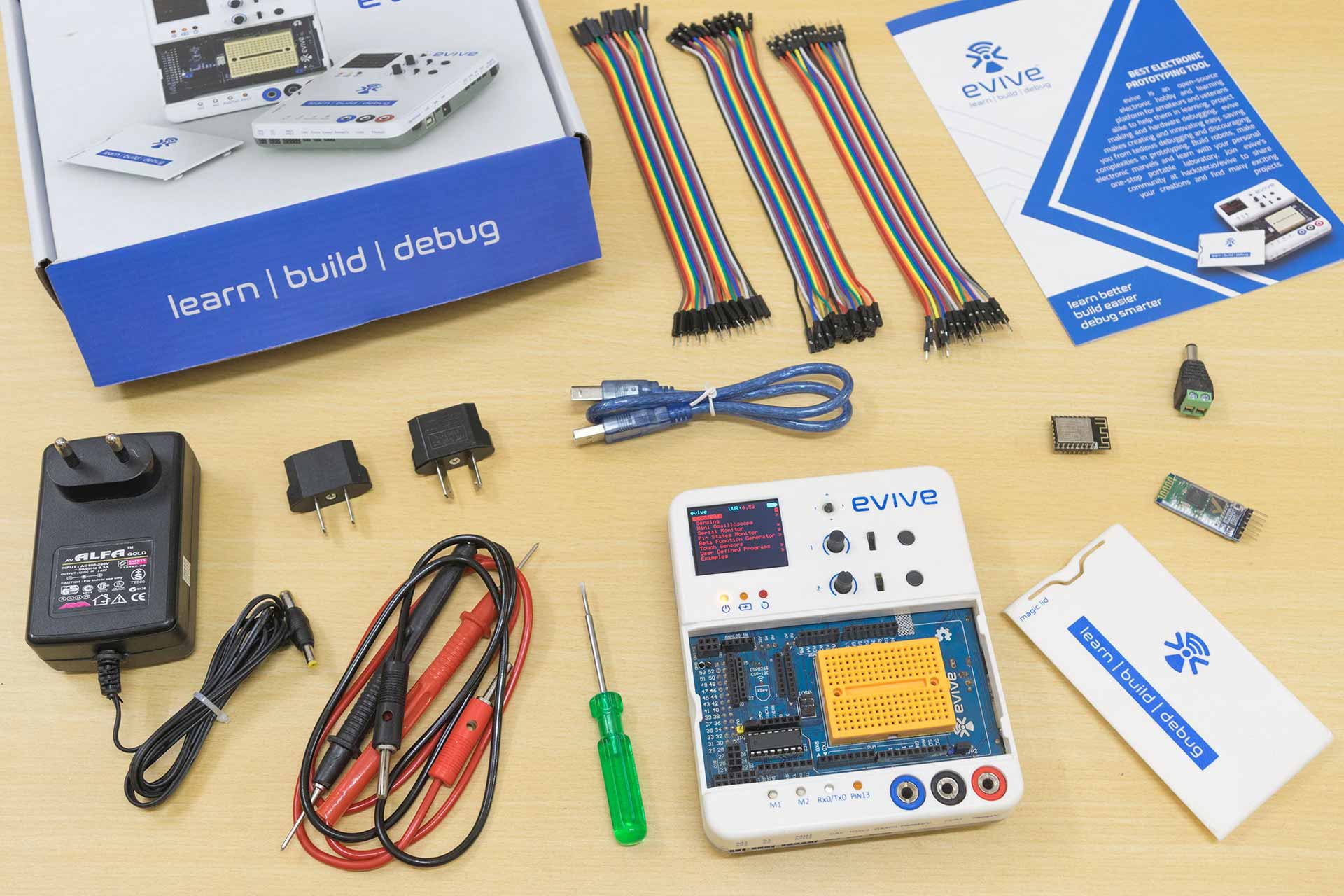 STEMpedia's evive IoT Kit perfectly brings together IoT and education and helps learners understand several concepts of IoT which prove essential in the automation sector. It is an IoT kit for beginners with which users can develop various projects based on home automation, weather station, motion-activated system, and more.
Take a look HERE if you want a guide to making these projects using the evive IoT kit.
Also read: National Technology Day Special: the Revolutionising Role of Technology in Education
In a Nutshell
IoT schools, or the Internet of Things in education as a whole, aims at increasing the efficiency and improving the dissemination of knowledge. With the help of IoT in education, learning expands and does not face any physical boundaries i.e. time, distance, location. Learning is, as it should be, limitless. Abiding by this idea, the evive IoT kit for beginners, with its futuristic approach, stands as an excellent example of IoT in education.
Feature image taken from timslade.com